TAO-WEI Cool2Hot Sonic Beautifier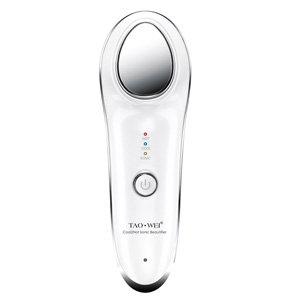 There is no shortage of beauty products, gadgets and gizmos on the shelves. Recently I was sent this new TAO- WEI Cool2Hot Sonic Beautifier to test. As usual, I was skeptical that any over the counter item could do anything. So, I put this to the test.
The first night I used it I felt my skin was softer. I didn't see any difference but it felt like silk. I have used this gadget for almost a month and can say that I do think my skin looks more rested and refreshed. The texture is definitely smoother.
So, what is this little gadget? Like many electric toothbrushes, it uses sonic technology. Besides sonic technology, it also uses temperatures and changes from hot (up to 107 degrees) to cold (down to 41 degrees) in just seconds.
The hot setting, along with the sonic vibrations, liquefies lotions on your face. If you put on moisturizer then use this on the hot/sonic settings, to maximize the absorption of whatever serum or cream you use. Plus the heat feels great. Then after about a minute change the setting to cold (and I do mean cold) and pores are closed to lock in the cream or serum. We've all been told as we grow up to wash with hot or warm water then rinse with cold. This is for a specific reason. Heat opens pores and cold closes them.
If you have puffy eyes, instead of putting a cucumber slice over them, simply put this device on the cold/sonic setting and your eyes will instantly feel better. The cold is refreshing. I can also see this being used in the hot summer to cool anyone's face or neck when the temperature is on the rise.
This is not a gadget that takes the place of a facelift, but it does tone and refresh skin. At least it has done so for me. And I have tried many different products. This is something that took me off guard by really coming through and refreshing my skin. It doesn't change discolorations. It does makes skin smoother.
TAO-WEI Cool2Hot Sonic Beautifier is available on weibeauty.com for $198.
About the Author
Francine Brokaw has been covering all aspects of the entertainment business for 20 years. She also writes about technology and has been a travel writer for the past 12 years. She has been published in national and international newspapers and magazines as well as internet websites. She has written her own book, Beyond the Red Carpet The World of Entertainment Journalists, from Sourced Media Books.
Follow her on Twitter
Like her on Facebook