The Family Doodle Book
| | |
| --- | --- |
| Ages: | 3-18 yrs |
| Price: | $14.95 |
| Website: | Amazon.com |
| Year: | 2013 |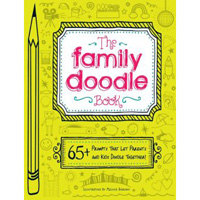 Doodle Book, 50+ prompts that let parents and kids doodle together, Adams Media. This is a doodle book that promotes Family Fun! "
*The first doodle book on the market, includes 100 fun-for-all prompts that turn doodling into a bonding experience the whole family will remember for years to come.
*A 2009 study in the journal, Applied Cognitive Psychology, found that doodlers were better able to retain information if they learned it while doodling.
*110,000 people search for doodle inspiration on Google every month.
"Anyone who has a kid knows that they love to draw, but why should kids have all the fun? With the Family Doodle Books, the entire family can let their creativity roam free as they sketch out their responses to 100 imaginative prompts Each spread will provide readers with plenty of space to create their masterworks as well as fill-in questions to help them capture the moments, places and things they adore. From their favorite foods to their preferred beach activities, kids and parents alike will discover more about each other as they draw their way through interactive prompts like:
Prompt: Each of you can only eat one food for the rest of your life! Find a place on the plate to draw that food!
Prompt: Your next family vacation is on Mars! Everyone draw your new alien friends!
Prompt: What do you think you'll look like in 15 years? Everyone draw your face!
The Family Doodle Book will bring hours of laughter and smile as families come together to create artwork, and memories that will last a lifetime.