The GiggleBellies Musical Adventures, Volume 1 by 3D Magic Factory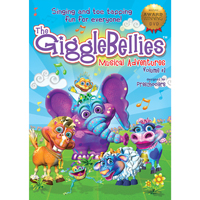 A fresh and modern twist to preschool DVD's and music. "The GiggleBellies" giggle and wiggle right into your little one's hearts. Engaging award winning animation that combines colorful whimsical worlds, endearing characters and fun upbeat music that even parents can enjoy. Fully 3D animated music DVD will keep your toes tapping and everyone can join the fun by singing and dancing along.
Includes nine fully animated songs including The GiggleBelly Train, Old MacDonald Had A Farm, Wheels On The Bus, Peanut, ABC Superstar, Web Footed Friends, Jumping Monkeys, Kooky Bird and Twinkle Twinkle Little Star. The DVD also includes MP3's of all nine songs to download and create your own music CD, ten coloring pages, nine fully illustrated lyric sheets and two fun & fantastic wallpapers. "The GiggleBellies Musical Adventures" DVD series was designed to engage children through a blend of upbeat songs, unique characters and colorful whimsical animations.