The Inhuman Squishy Zombie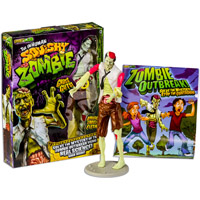 A zombie outbreak is no game— you have to use your brain!
The dead are walking, and it's up to you to solve the mystery and stop the zombie epidemic. Follow the clues by reading the short graphic novel and examining the squishy zombie model in a race against time and contagion. Look for bite marks, examine rotting flesh, and probe squishy organs to identify the origins of the zombie's infection. The graphic novel written by educator David Hunter makes exploring the scientific method and the science behind diseases a lesson in zombie-based fun.