The Magic School Bus - Revving Up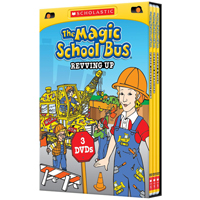 Take a fun and education-filled road trip this summer with Ms. Frizzle and her incredible bus, as everyone's favorite teacher makes learning exciting!
Explore everything from the smallest cell to the largest galaxy in twelve never-before-available episodes of the Emmy Award®-winning TV series in THE MAGIC SCHOOL BUS: REVVING UP. Each of the three discs in the set – "Under Construction," "Getting Energized" and "Cracks a Yolk" – contains three new episodes running the gamut from computers and electricity to city critters and desert adaptation. And each DVD also contains a special bonus episode adding up to more than four-and-a-half hours of Frizz-tastic fun!