Tinker Bell: An Evolution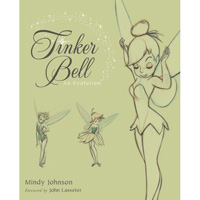 Tinker Bell is an iconic character who, along with Mickey Mouse, epitomizes the Walt Disney Company and has a worldwide fan base. She was "born" in 1904 in the J.M. Barrie play Peter Pan and today's audiences know her mainly from the Disney film Peter Pan. She also introduced the Disney TV anthology series when she would fly onto the screen, shake her wand, and spread Pixie Dust. Today Tink, along with the other fairies in Pixie Hollow, has her own film franchise
Tinker Bell: An Evolution is a fascinating look at the life and times of this famous fairy. In the foreword, John Lasseter writes that Tinker Bell has always been "one of my absolute" favorite Disney characters. He says, "Today, her magic is just as potent as ever, …"
The book details Tink's evolution from the early 1900s to present day. Besides reading about her "life" there are beautiful images that follow her many incarnations through the years. While she is mostly associated with the Peter Pan and Pixie Hollow stories, Tinker Bell has made many cameo appearances in other films, TV shows, and books.
Young viewers are probably unaware of her previous existence before her Pixie Hollow days. The final chapter details everything about Pixie Hollow, the characters, artwork, and life in this magical land.
Older audiences have grown up with Tinker Bell and know her from the days prior to the before the Fairies film franchise. I remember when I was young I looked forward to Tink flying over Disneyland signaling the beginning of the nightly summer fireworks. She still flies over the park for many of the nightly shows. And, Tinker Bell and her fairy friends visit with guests in Disneyland's Pixie Hollow.
So, just who is Tinker Bell anyway? All of that is explained in this beautifully illustrated book. Walt Disney once said, when introducing the character, "I believe you're going to like Tinker Bell… we fell in love with her…" He was right. The entire world has embraced this blue-eyed little fairy with the impish grin.
Tinker Bell: An Evolution is a book that can be enjoyed by the entire family. It's a look at the development of the character from her inception to her latest incarnation. If there is a Tinker Bell fan in your house, this is the perfect gift. Adults will enjoy reading Tink's biography, and kids will enjoy the illustrations.
Available wherever books are sold.
Adult Hardcover
192 pages
Author: Mindy Johnson
ISBN: 1-4231-7201-9
ISBN: 978-1-4231-7201-7