Vitafusion Gorgeous Hair, Skin & Nails and Vitafusion Everyday Energy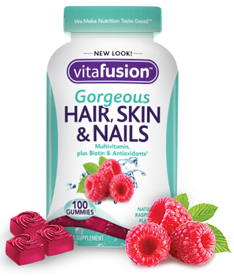 Enjoy beauty from the inside out with NEW Vitafusion yummy gummies: Gorgeous Hair, Skin and Nails and Everyday Energy.
Gorgeous Hair, Skin and Nails is a great-tasting gummy multivitamin containing 12 key nutrients, including Biotin and Vitamins C and E to help nourish beautiful hair, skin, and nails from the inside out.*
Everyday Energy contains key nutrients to support energy production and alertness to confidently keep pace with an active life so you can live every day to the fullest. * With caffeine sourced from Green tea and 100 mg of L-Theanine, Everyday Energy helps aid attention and Coenzyme Q10 plays an important role in the production of energy. These delicious peach tea flavored gummies are gluten-free and contain B-vitamins that help convert food into fuel.
Where to Purchase: Walgreens – Target – CVS – Bed Bath and Beyond – Vitamin Shoppe