Yu-Gi-Oh! Classic Season 1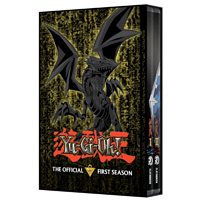 Based on the hit comic book series, YU-GI-OH! follows the adventures of a boy named Yugi and his friends who love the newest card game that is sweeping the nation! In this game, players pit monster against monster in high intensity duels. Yugi and his friends are obsessed with the game, which is packed with awesome monsters and powerful spell cards. But there's more to this game than meets the eye. Yugi solves an old Egyptian puzzle that infuses him with the energy of an ancient spirit. Their forces unite to form a stronger, more confident duelist, for Yugi needs all the help he can get – the fate of the world is in the balance!
The series has aired on US television starting in 2001 and is currently seen on Vortexx, the WB Network's Saturday morning cartoon block. Previous YU-GI-OH! DVD releases have scanned as many as 600,000 units.
YU-GI-OH! CLASSIC SEASON 1 – $44.95
YU-GI-OH! SEASON 1, VOLUME 1 AND SEASON 1, VOLUME 2 – $24.95
YU-GI-OH! CLASSIC SEASON 2 – $44.95