Yvolution: Y Glider 3 in 1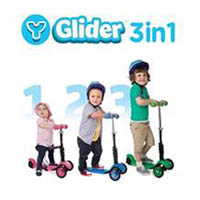 This innovative three-wheeled scooter grows with a child, offering three stages of fun and play: In stage one, Y Glider 3 in 1 is the perfect first ride-on for toddlers with a secure seat for riding. In stage two, parents can remove the seat so that their child can start to scoot using the stable wide riding platform and lower handlebar setting. In stage three, parents can fully extend the handlebar height and watch their child scoot off using Y Glider's easy-to-use, patented "Lean to Steer" method of steering, improving their balance and coordination along the way. Y Glider 3 in 1 is extremely durable with enhanced wheels for smooth ride and motion (two front wheels and a wide rear wheel), a stable riding platform with grip tape for superior performance, and an easy-touch rear wheel brake for quick and easy stopping. Its light-weight design even allows children to carry the scooter themselves. Features adjustable handlebars and a removable seat that adjusts to three different heights.
Ages 3+ (max weight 44 lbs).
Available in pink, blue or green.
Available October 1, 2013 at Toys"R"Us stores nationwide and online atwww.Toysrus.com/Yvolution.