Yvolution: Y Glider XL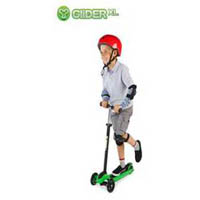 The Y Glider XL is an advanced three-wheeled scooter for kids ages 5 to 9 years old. It features Yvolution's unique patented "Lean to Steer" technology for easy steering, giving the rider total control to carve or cruise. With a reinforced riding deck with built-in grips, two-toned enhanced front wheels and an extra-wide rear wheel, this performance scooter offers a smooth ride and provides an enhanced experience versus traditional two wheel scooters. An adjustable handle bar with rubber grips makes Y Glider XL perfect for riders of varying heights. The easy-stop rear wheel braking system allows kids to both have fun and be safe.
Ages 5+ (max weight 88 lbs).
Available in red/black, pink/black or green/black.
Available October 1, 2013 at Toys"R"Us stores nationwide and online at www.Toysrus.com/Yvolution.