ZipStix by Hog Wild Toys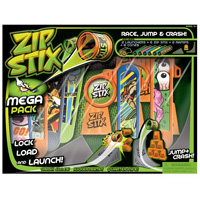 Lock, Load and Launch – the newest in stunt toys is ZipStix. The action-packed play sets lets kids perform tricks, crash cones and race against one another. Just lay the ZipStix flat like a skateboard, curl back to create tension and release to launch like a runaway wheel. Kids can collect all 72 high-octane ZipStix designs in Series.
How Does It Work?
Grab both ends and flex into "locked" position. Listen for the "click" sound.
Align hole in ZipStix to peg on launcher.
Raised ZipStix logo is facing up.
Hold down launcher. Gently push down
on end of ZipStix until it begins to curl.
Release to launch.
Crash the cones!
Race to victory!