'Cars 3' Junior Kits from Revell are easy and fun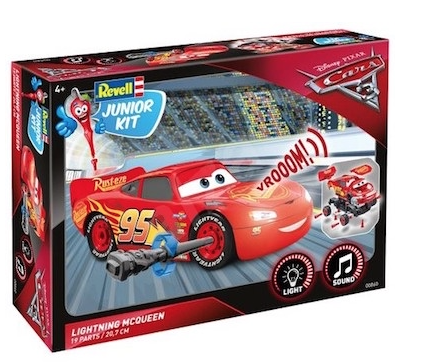 Cars lovers – young and old – will enjoy the new Junior Kits from Revell. The Junior Kits are designed for ages five and up and are easy to put together. Well, pretty easy, anyway.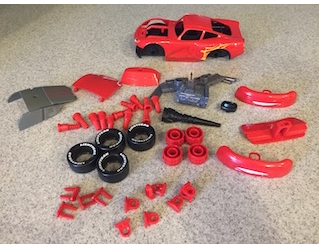 The pieces snap and screw on making the 45 pieces fit together perfectly. The kits even come with a screw and nut connector that fits into the chassis at the end of the assembly process and becomes part of the car. The cars are sturdy, well built, and easy to create. Whether you want Lightning McQueen (and who doesn't love this red racing champion with a heart of gold?), the new hotshot Jackson Storm, or the female technician Cruz Ramirez, there's a Cars car for your family.
The instructions are all in pictures, so even young enthusiasts can see what they are supposed to do and what goes where. The only problem I can see with this kit is that an adult will most likely be necessary to firmly fit the wheels inside the tires. Otherwise they don't require any strength, just enthusiasm and the ability to turn the screw/nut connector. And they are just as easy to take apart.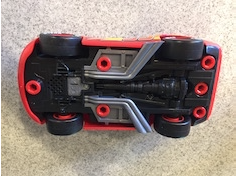 Why would someone want to take apart their perfectly built car? That's easy. The cars come with two different mouth and eye expressions. So you can make Lightning smile broadly or kind of smirk, and there are eyes to match each mouth.
After the car is assembled, kids will enjoy decorating their brightly colored vehicle with the decals that are included in the kit. This is a step that parents might want to oversee with their kids just to make sure they are put in the right location.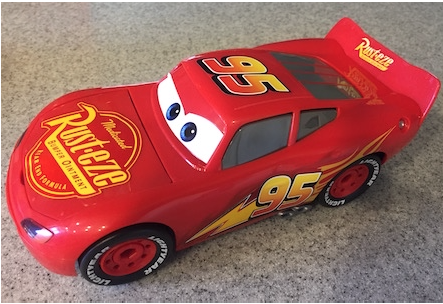 And when the car is complete, it actually rolls. The headlights light up and the car emits sounds when the hood is pressed down. This is the real deal. The kit is like two toys in one. First it's a fun model that is fairly easy to assemble. Second it is a fully functional toy car with lights and sounds.
I put together plenty of models in my youth, and I can honestly say I enjoyed putting this new Lightning McQueen kit together because I saw how well made it is and when I finished I had a great car that didn't fall apart. It's sturdy and will be able to withstand plenty of play from your kids. And with the lights and sound the car is more than just a plain plastic automobile.
There are instructions how to change the battery when it runs down, however this is a task for adults to undertake.
These make great gifts for birthday parties and will be treasured at the holiday time. The size of the car is 1:20 scale. Each of the three cars from Cars 3 retails for $24.99.
About the Reviewer
Francine Brokaw writes about products, travel, and entertainment. She has been published in national and international newspapers and magazines as well as Internet websites. She has written her own book, Beyond the Red Carpet The World of Entertainment Journalists, from Sourced Media Books.
Follow her on Twitter