Convenience and Compactness from RuMe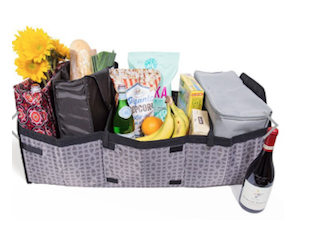 If you haven't heard of RuMe then you don't know about their convenient products. They make traveling and everyday life a little easier.
Sat Pack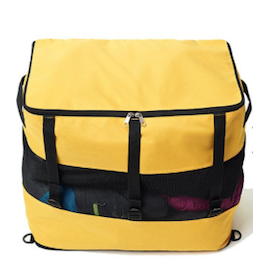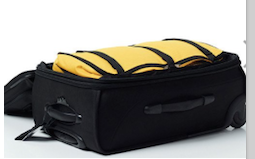 The Sat Pack is a space saving bag that has a variety of uses. It can be used as a convenient backpack or a storage pack for items that you want to put away. Because it compacts, it saves space and when it's compressed down, it will fit under most beds and in other tight locations. Besides using it around your home, the Sat Pack is perfect for traveling.
So, how does this product work? When you first open it you'll see zippers and straps and wonder how this bulky pack can do what it is supposed to do. When you pack it full of clothes – I should say stuff it full of clothes or whatever – close the zipper and you have a bulky bag. But then simply sit (or kneel) on the pack and it compresses. Then tighten the straps to keep it in its compressed size.
The Sat Pack will then fit inside your luggage or your carry-on, under your bed, on shelves in your closet, or other tight places. The product itself is lightweight and made of durable material. It lists for $24.95.
If you're like me you don't like to pack and unpack when you get to your hotel room. And you wonder what has been in the drawers before you got there. The Garment Travel Organizer is perfect for travelers because it serves two purposes.
First, the GTO has one side with four mesh cubes that zipper shut. These are designed for your folded items. Second, the other side holds your hanging items. Simply place them inside the bag on their hangers. There's no need to take them off of their hangers and then place them on hotel hangers once you arrive in your room. The GTO then folds over. Place this bag inside your luggage and head to the airport.
The best part about the GTO is once you get to your hotel room, simply remove the bag and hang it directly on the closet rod in your room. It comes with straps that attach onto a rod.
The GTO takes garment bags one step farther, with all the bells and whistles. It's lightweight and machine washable. It lists for $24.95.
Expandable Organizer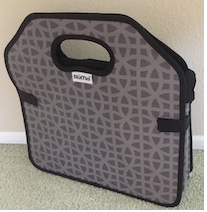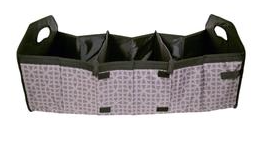 Whether you want –or need- an organizer in your car or your home, the Expandable Organizer is the solution. It compacts to less than one inch thick with a built in handle for easy carrying. Straps hold it shut. Then it opens into an easy and convenient organizer that can expand from two compartments to three, depending on your needs.
This is a great product for the trunk of your car, keeping your groceries upright. No more rolling soda bottles in the back of your car.
And for play, this product holds unruly balls and other toys to keep everything organized and in one place. When not in use, it folds up and slips into a drawer or shelf. The Expandable Organizer lists for $24.95.
Check out their website for other products. RuMe produces accessories to make life easier. They offer single items and also bundled sets. And you aren't limited to a single color. There are plenty of fun colors and designs to personalize your products.
About the Reviewer
Francine Brokaw writes about products, travel, and entertainment. She has been published in national and international newspapers and magazines as well as Internet websites. She has written her own book, Beyond the Red Carpet The World of Entertainment Journalists, from Sourced Media Books.
Follow her on Twitter