Disney's Babies Plush Collection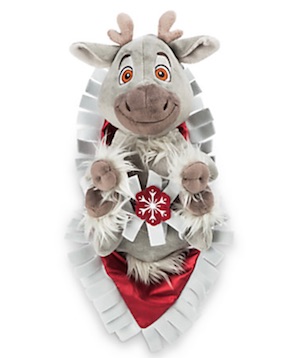 Can you say adorable? That's exactly what this line of stuffed animals is. The folks at Disney Store have taken some of the most beloved animal characters as well as a few human ones, and created baby versions of them for kids to snuggle with.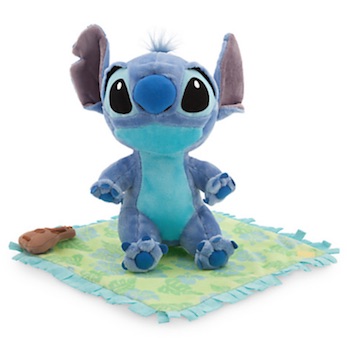 Not only are these baby versions of the characters endearing with innocence and sweetness, they each come swaddled in their own blanket. Before giving these to your child, clip their plastic ties to disconnect the plush characters from their blankets. Velcro snaps allow little fingers to wrap their baby in the blanket to put them safely down for a nap.
These little guys are 10 inches of cuteness. And their blankets match their personalities and the movies from which they come.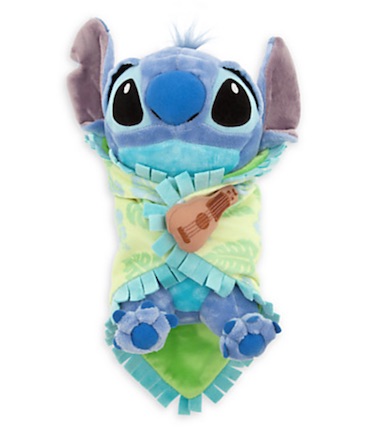 For instance, Stitch lives in the warm island of Kauai with Lilo. His blanket has a Hawaiian print and the closure has a little guitar so he will remember, "Elvis was the king." At least, that's what Lilo always says. And even in the tropics, a blanket is necessary from time to time, especially for a little baby.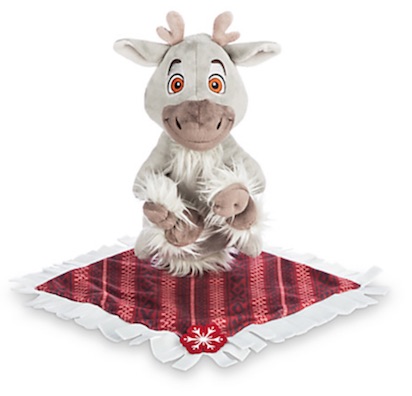 On the other side of the world, Norway is a cold climate. Baby Sven come wrapped in a blanket that represents the designs of the land. And his blanket has a felt snowflake on the Velcro closure.
Besides these two sweet babies, there is a baby Cheshire Cat, a baby Queen of Hearts, Baby Marie for kitty lovers, Baby Mickey, baby Elsa, baby Lady for puppy lovers, Baby Simba, a baby Yeti, and more. These items are only available in the Disney Parks and at the Disney Store online.
If you have a new baby in your home, perhaps think about getting one of these for another child in the house. This way he/she can wrap his or her own little baby in a soft blanket and snuggle with it.
The Disney's Babies Plush collection is appropriate for ages 2 and up.