Hot Logic is the new way to cook and heat food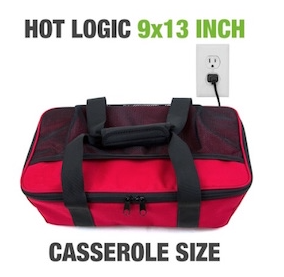 Summer is the time of picnics, parties, bar-be-ques, sporting events, and all kinds of get-togethers. With the Hot Logic cooking boxes, it's easier than ever to cook, reheat, and transport food to wherever you are going, even if it's just to the office.
With the Hot Logic Electric Lunchbox, you and your family will eat healthier. Forget about fast foods, just put in healthy, delicious food, plug in the box, and it heats it up so when you're ready to eat, everything will be hot and delicious.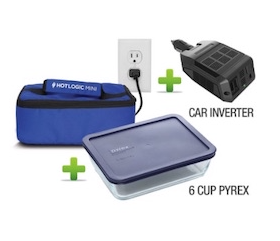 This is a 3-in-1 item. It cooks, heats, and warms your food – even frozen foods. All you need is an electric outlet and you're ready to cook. And for traveling to your location, check to see if your new autos and SUVs are equipped with them outlets, as many new ones are. If you don't have an outlet in your car, don't worry. Simply get the Hot Logic Mini Deluxe models, which come with car inverters.
The Hot Logic Mini also comes with its own Pyrex dish. Simply put your food into the dish, put the dish into the Hot Logic, plug it in, and in a few hours your food is ready to eat. Or, if you are reheating, it won't take as long. Imagine putting hot dogs and chicken into the Hot Logic, plugging it in, and then taking off for a picnic.
The full size Hot Logic is the right size for a family-sized 9 x 13 casserole dish –(not included). Use your own casserole dish filled with whatever you like – lasagna, chicken, fish, hamburgers, hot dogs, etc. – and even put some frozen veggies in with your meat. In a few hours you'll have a hot meal. Or, if you prefer to use a frozen meal, just place that into the Hot Logic and you'll have your comfort food ready to eat without the use of a microwave. If you have it in your office, all you need to do is to plug it in when you get to work and at lunchtime your coworkers will be fighting over the microwave while you are already dining on your favorite meal.
The Hot Logic boxes are insulated and have built-in pockets for the electric cords. The large Hot Logic also includes a cooking shelf (Patented Smart Shelf), which utilizes slow conduction. Both the Hot Logic and the Hot Logic Mini have sturdy handles for easy transportation.
The Hot Logic doesn't give you instant gratification like a microwave. But there are times when you don't have a microwave, especially when you're at a picnic or even a tailgate party. Plug the cord in your automobile and reheat or even cook your food right there, on the spot. These boxes hold the heat so hours later the food is still hot.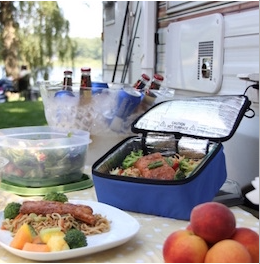 These are perfect for dorm rooms too. Imagine your student going to the local farmer's market, selecting fresh veggies, taking them back to their dorm, and eating a healthy meal without preservatives or other ingredients.
The only thing to remember with these Hot Logics is that you do need to have an electric outlet. They are like portable ovens, only much more convenient.
For tailgating, picnics, dorms, offices, or even holiday parties, the Hot Logics could be just what you need. Put in your favorite food, whether already cooked or not, and you're set. While everyone else is scrambling to heat up their food, yours is already ready.
https://hotlogicmini.com