mifold the Grab-and-Go Booster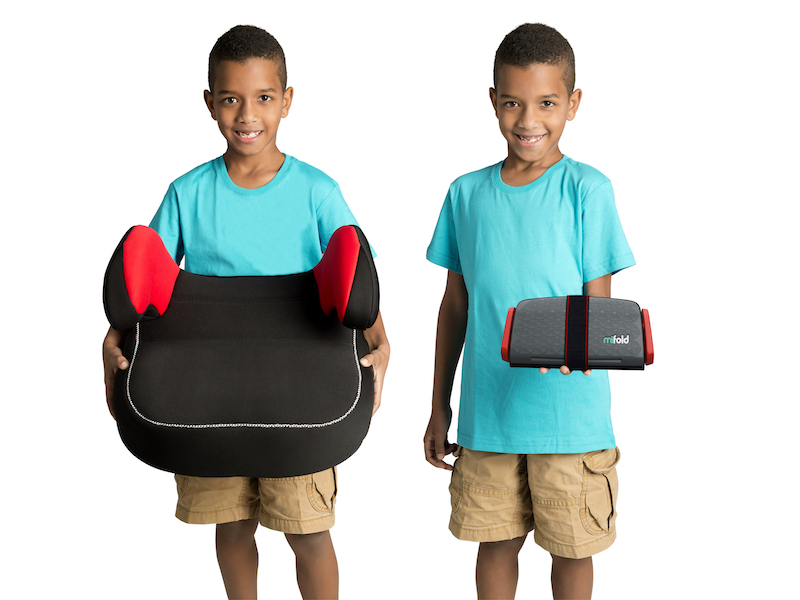 mifold® the Grab-and-Go Booster seat is the most advanced, compact and portable child car safety seat ever invented. It's innovative design is more than 10x smaller than a regular booster and it's just as safe.
mifold works completely the opposite way to a regular booster. A regular booster seat lifts the child to be in the position of an adult, but mifold holds the seat belt down. So like a regular booster, mifold holds the seat belt in exactly the correct position on the bones of the hips and the bones of the shoulder, without needing a big, bulky seat to lift the child. mifold meets or exceeds the FMVSS 213 regulations.
In at least 20% of journeys, children do not have an appropriate restraint: carpooling, with grandparents, with taxis, on vacations, rental cars and bigger kids whom do not want to appear babyish in front of their friends.
The world is going through the most significant change in 100 years. Nowhere are these changes felt more than in the world of personal transportation.
Millennials are traveling more than ever before, there is more ridesharing than ever, less car ownership but more car usage, there is a move towards autonomous vehicles. These changes mean that booster seats are needed to move with the child and not the car. Traditional large, heavy and bulky car seats no longer meet the needs of the modern family.
Inspired by these changes mifold is leading the development of solutions for these needs. We have sold more than half a million mifold seats in more than 150 countries world-wide.
For the first time, mifold solves the problem when bulky seats are not available.
Ages: 4+
Price: $39.99
Available at: Amazon.com, Nordstrom.com, buybuyBaby, Walmart.com, Target Stores and Target.com, Nex.com and Kohls