Tiny Love Magical Tales Black & White Gymini Deluxe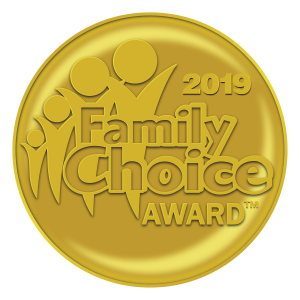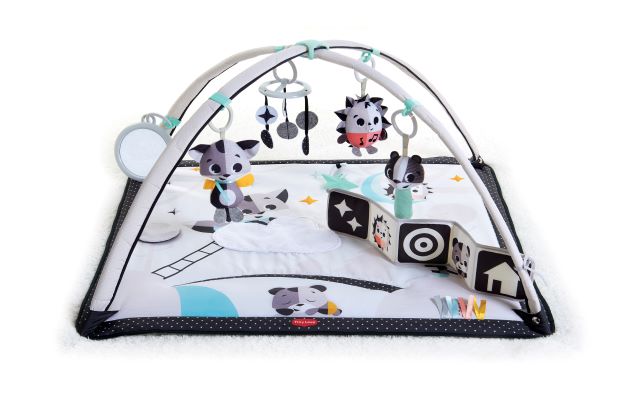 The Tiny Love Black & White Gymini Deluxe from the Magical Tales Collection is a stylish activity gym designed to support newborn development from day one. With 18 developmental activities and interactive toys, it encourages baby's skills as they naturally play.
Contrasting black and white colors provide visual stimulation for newborns and the stylish design means parents are no longer forced to choose between development and style.
The adjustable arches allow baby to grow alongside the mat and enhances tummy time with engaging satin ribbons, musical toys and a mirror for baby to play with. A variety of textures helps to develop baby senses and a cozy play area allows babies to stretch and experience movement.
The Black & White Gymini Deluxe is designed with the 7 developmental wonders, a trademarked set of guidelines created by experts to measure newborn development. Through interactive play with the musical hedgehog, a playful plush cloud, wind chime badger and crinkly peek-a-boo tree, your baby can develop cognitive skills such as object permanence and stay engaged during tummy time.
Below are additional age tips and recommended modes of use:
0+ months: Senses
• The gym's contrasting black & white colors, textures and sounds stimulate senses from day one, while simple black-and-white shapes are especially designed to help stimulate newborns' vision.
0-2+ months: EQ – Bonding & Communication
• Placing adjustable arches into an open position encourages bonding time and connectivity.
2-4 Month: Gross Motor Skills -Tummy Time
• Place the Gymini's soft book in front of baby while in the tummy time position. The Gymini's soft book was created with unique contrasting graphic elements and designed to motivate baby during tummy time.
3-5 months: Fine Motor Skills
• The Gymini's variety of textures help develop tactile senses and encourage the development of fine motor skills. Satin ribbons, plush clouds, crinkly flaps and other elements enrich baby's tactile experience and help practice various types of grasping.
4-6 months: Cognition – Understanding cause and Effect
• As baby grows, the Gymini helps baby understand the relationship between cause and effect as they begin to realize that they have control over action and can actually make things happen.
Retail Price: $47.99
Available at: Amazon: (https://www.amazon.com/dp/B07LB6J653/ref=twister_B079TF9JVV?_encoding=UTF8&psc=1)
BuyBuyBaby (https://www.buybuybaby.com/store/product/tiny-love-reg-magical-tales-trade-black-white-gymini/5319693?skuId=67471515&&mrkgcl=611&mrkgadid=3259375444&enginename=google&mcid=PS_googlepla_brand_brand_local&product_id=67471515&product_channel=local&adtype=pla&adpos=1o5&creative=237535384067&device=c&matchtype=&network=g&gclid=Cj0KCQjw7sDlBRC9ARIsAD-pDFqtXdeRNJfhNV70ti2yy_ywHjQqE-_1iOzHxGw_YsvEmhcDukmBOE4aAjTjEALw_wcB&gclsrc=aw.ds)
WalMart
(https://www.walmart.com/ip/Tiny-Love-Magical-Tales-Gymini-Activity-Play-Mat-Magical-Tales/845934904?wmlspartner=wlpa&selectedSellerId=3731&adid=22222222227270818958&wl0=&wl1=g&wl2=c&wl3=323700603569&wl4=aud-566049426705:pla-605624066801&wl5=9004067&wl6=&wl7=&wl8=&wl9=pla&wl10=113734280&wl11=online&wl12=845934904&wl13=&veh=sem&gclid=Cj0KCQjw7sDlBRC9ARIsAD-pDFrikmEMy225fbJM-9kJ1OtvzFNj5t4zKu0yRpHOaOi6MOM1ZFIjsDsaAuvuEALw_wcB)