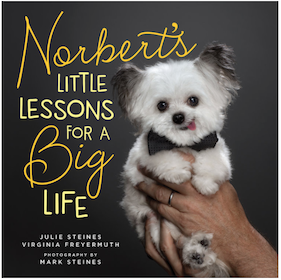 Norbert is a three-pound therapy dog that has brought countless smiles to everyone he visits. This precious pooch has "written" several books with his mom Julie Steines and her mom Virginia Freyermuth. Now the little fellow "pens" his latest book, "Norbert's Little Lessons for a Big Life," with accompanying photos by his dad Mark Steines.
We have some books to giveaway.
To be eligible to win a copy of this adorable book, email us at fca@familymagazinegroup.com with "Norbert Book Giveaway" in the title. Please supply your name, address, phone number and email address (so we can let you know if you are a winner).
The deadline for this giveaway is October 10, 2017.
And check out Norbert's Twitter account (@NorbertDog) and his website.