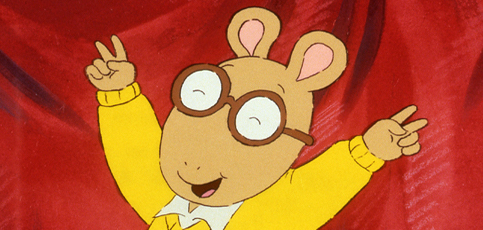 The beloved character and star of the PBS series Arthur is turning 20 this month. The little aardvark has been a popular character on TV for two decades and in his animated series continues to bring in new fans for his aardvark antics.
The series began in 1996 and has been broadcast in over 80 countries bringing in 7 million viewers each month. With 7 Emmys, a big presence on Facebook (1 million followers), and ranked as one of the "50 Greatest Cartoon Characters of All Time," Arthur has a loyal fan base that now encompasses several generations of viewers who have stuck with the little guy year after year and introduced him to their own children.
With the books based on Arthur's adventures by Marc Brown, Arthur and his friends help kids with problem solving and issues that are part of their lives. "I could never have dreamed, 20 years ago, the wonderful adventure I was about to have with Arthur," said Marc Brown, creator of Arthur, "It's been so much fun working with the many talented, smart people who make Arthur happen. I think what's most rewarding for all of us is using the medium of television to try and make children successful."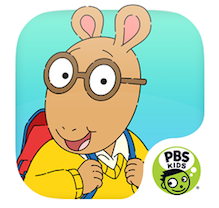 Besides the books and the long-running TV show, PBS has created an Arthur App which contains several games, each focusing on different skills and fun. With over 15 levels, there is always something new and exciting to keep kids occupied as well as help them develop teamwork skills.
"PBS is committed to using the power of digital media to educate and inspire," said Ira Rubenstein, Senior Vice President and General Manager, Digital, PBS. "As part of fulfilling this mission, PBS offers more than 40 apps for kids and parents. With engaging games and popular ARTHUR characters, Arthur's Big App leverages the educational potential of touchscreen technology to help children develop the teamwork and collaboration skills that will prepare them for success in school and in life."
"Arthur has reached generations of fans through engaging characters and compelling storytelling," said Lesli Rotenberg, Senior Vice President and General Manager, Children's Media and Education, PBS. "Arthur embodies PBS Kids' commitment to help children learn important social-emotional skills, such as managing their emotions, building friendships and developing self-esteem."
The new season of Arthur premiers October 10, 2016. Join Arthur and all the characters (Buster, Francine, D.W., Alan, Muffy, Binky, Kate, Sue Ellen, George, Fern, Emil, and the rest of the loveable little guys) for new fun and adventures. Even Buster has a podcast, which adds to the relevancy to this day and age. Helping kids deal with issues, problems, and acquire skills to focus on life and goals is what Arthur is all about.
Francine Brokaw has been covering all aspects of the entertainment industry for 20 years. She also writes about products and travel. She has been published in national and international newspapers and magazines as well as Internet websites. She has written her own book, Beyond the Red Carpet The World of Entertainment Journalists, from Sourced Media Books.
Follow her on Twitter