'Friendsgiving' now on Blu-ray and DVD
Category:
Blu-ray's and DVD's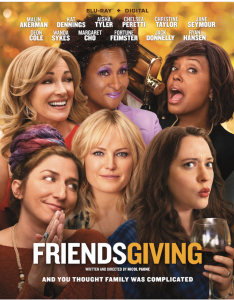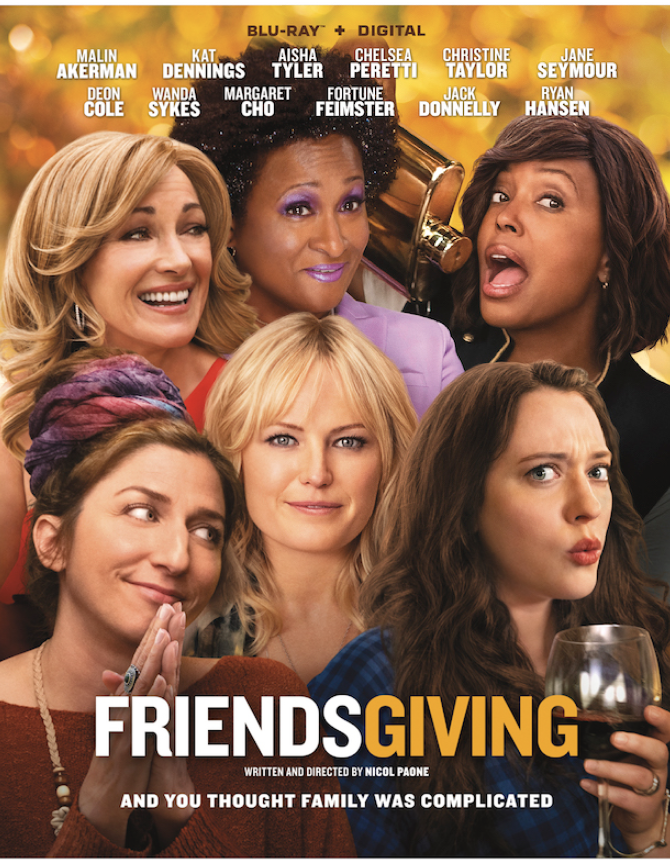 Malin Akerman and Kat Dennings head a large cast in Friendsgiving, a story of life, love, and family.  The film takes place on one day, Thanksgiving (pre Covid 19) when a group of friends gather together to spend the day.
Thanksgiving is a holiday usually spent with families when they gather together to celebrate each other and give thanks for all they have. We all know we can choose our friends but not our family, and sometimes people cannot be with their families on the holiday. So we have our own family of our close friends. And with those friends we can have our own "Friendsgiving."
The two best friends, Molly and Abby (Akerman and Dennings) were planning on spending the day together, just the two of them. Molly is going through a divorce and Abby is reeling from a breakup. So they decided to commiserate together. But things get out of hand and Molly's new boyfriend Jeff (Jack Donnelly) becomes part of the group, joined by Molly's mother Helen (Jane Seymour), Molly's former boyfriend, and Molly's friend Lauren (Aisha Tyler) and her family, as well as several other friends. What was to be a quiet Thanksgiving with just the two best friends (and Molly's baby) turns into a big wingding with plenty of food, drinks, and even a photo booth.
Every one of the characters is going through some personal dilemma. This is a strange group to say the least. Then mix in a mother who wants to be a swinging friend and not a parent, a lot of alcohol, some drugs, sexual situations, and unusual relationships and you have this story.
The bonus feature is a "making of" in which the story is discussed as both writer/director Nicole Paone and actor (and former roommate of Paone) Akerman talk about how some of the storylines are from personal experiences and others from experiences from their own friends. Put a bunch of crazy characters with plenty of turmoil into one day and this is what it looks like. Some scenes are like sketches from Saturday Night Live, while other are just chaotic and some are simply tedious.
This is not a movie for the entire family due to the subject matters involved. Friendsgiving is rated R for crude sexual content and language throughout, as for drug use. Emphasis is on the "crude."
About the Author
Francine Brokaw has been covering all aspects of the entertainment industry for over 25 years. She also writes about products and travel. She has been published in national and international newspapers and magazines as well as Internet websites. She has written her own book, Beyond the Red Carpet The World of Entertainment Journalists, from Sourced Media Books, is the entertainment correspondent for Good Day Orange County, and has her own TV show, Beyond the Red Carpet, on Village Television in Orange County. She is a longstanding member of the Los Angeles Press Club and the Television Critics Association.