Amazon Studio's 'Red Oaks' Returns
Category:
Television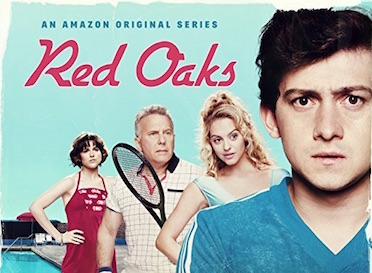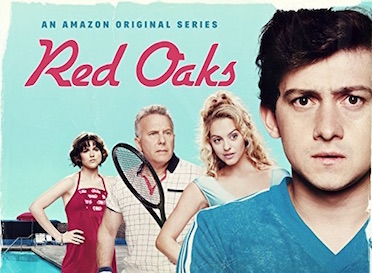 A refreshing pause from today's confrontational, harsh brand of humor, Amazon's sweet-natured Red Oaks returns for a second season. Temporarily taking leave of its North Jersey fictional country club home, assistant tennis pro David Meyers (Craig Roberts) flies to Paris to be reunited with his major crush Skye (Alexandra Socha).
Finally everything appears to be falling in place for David, who's been put through the mill during the premiere season. For starters, his parents (Richard Kind and Jennifer Grey) got divorced. This forced him to drop out of New York University and abandon his dreams of becoming a filmmaker. The one glimmer of hope that sustained him was his dream girl, the daughter of club president Doug Getty where he worked as an assistant tennis pro.
The operative phase here is mutual attraction for once the couple returns to the country club the real world again sets in. David finds himself caught in the middle between his strong-willed girlfriend and her equally stubborn father (Paul Reiser).
Adapting a few pages from the Caddyshack playbook, the rogue gallery of characters finds the roguish head pro Nash trying his hand at gold digging, while valet-turned bartender Wheeler continues to pursue his own lady love, while ex-spouses Sam and Judy check out the Jersey's singles scene. Keep in mind that the coming-of-age comedy is set in the earlier, gentlier 1980s.
Autobiographical to a degree, Red Oaks was conceived by creators Gregory Jacobs and Joe Gangemi, while the series is filmed at River Vale's Edgewood Country Club, just three miles from where Jacobs grew up. And like David, he aspired to be a filmmaker ever since he picked up a Super 8 camera as part of an after-school program. From there he started making his own films with a superhero called Super Chicken.
Having worked steadily alongside director Steven Soderbergh since the early 1990s, Jacobs continues to rake up those frequent flyer miles wining to Las Vegas for the Ocean's Eleven movies, Behind the Candelabra which earned him an Emmy, to deep space for Solaris, and 1900s New York City for The Knick.
Jacobs noted, "We wanted to do something lighthearted and optimistic. We've been telling each other stories for years. So we wanted to put them all together in one place, kinda of a remembrance to all these crazy adventures we had and the ones we wished we had. It's not about specific people, but rather a hodgepodge of people we've come across growing up. We started with the seed of autobiographical and then we quickly had to start making it up to make it more exciting and interesting."
Without missing a beat Gangemi continued, "We're both parents so we wanted to tell the kind of story we wanted to watch after a hard political day and also one a 20-year-old can still like. There are people like Paul, who is a villain on paper, but you still like and are curious about him. He loves his wife and daughter. He's kinda a bad guy, but I think there's a hopefulness to our show, which I don't think is bad."
Aside from being entertaining, Gangemi and Jacobs share another mutual goal. Jacobs elaborated, "One thing we consciously spent a lot of time on and what to continue in future seasons is what if you're a kid growing up the burbs and you're creative or interested in something that not necessarily your parents are into? It could be becoming a filmmaker, a musician, an artist or anything else and you're not a rich kid. How do you do that – that dream? I think there are different challenges now, but I think kids in the suburbs still have the quarries."
Upon parting at the end of the interview, Gangemi closed with one final invitation, "People who liked the first season should come back, because we believe season two is even better. As for people that have never seen Red Oaks you have almost a week to binge on the first season. They go down easy."
Red Oaks returns November 11, 2016.
About the Author
Winnie Bonelli is a former entertainment editor for a daily metropolitan New York City area newspaper. She is passionate about movies and television and loves to take readers behind the scenes.