Bon Voyage, Charlie Brown on DVD
Category:
Blu-ray's and DVD's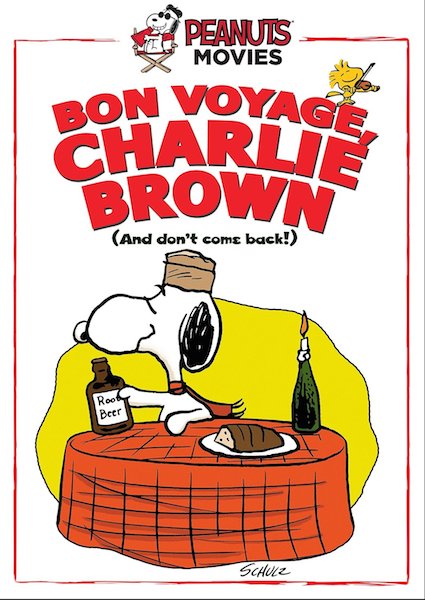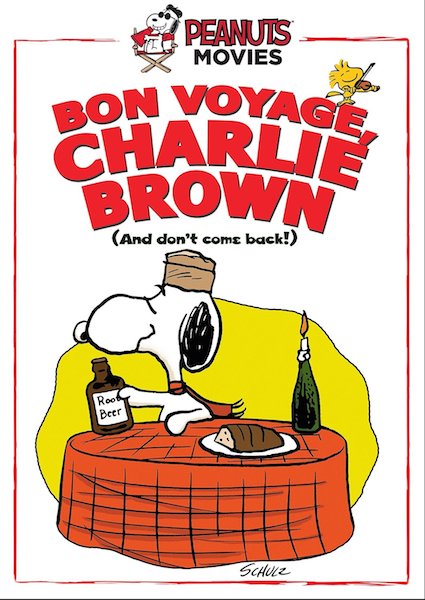 Bon Voyage, Charlie Brown is the fourth film in the Peanuts feature film franchise. This 1980 film stars Charlie Brown, Linus, Peppermint Patty, and Marcie as they travel to Europe to represent their schools in a student exchange program. Of course, Snoopy tags along with his buddy Woodstock to help the kids maneuver through the streets of England and France.
Their plane trip to England is hysterical as Snoopy and Woodstock get first class treatment leaving the four kids to experience coach travel. Upon their arrival in London, they decide to tour the city before leaving for their destination in France. Snoopy is well prepared, having packed his tennis togs and racket to take in some court time at Wimbledon. While he's swinging his racket, the kids are trying to understand their British waiter to order their lunch.
Then the group heads over to France via a hovercraft and once on French soil they rent a car, with Snoopy as the designated driver. Thank goodness Marcie knows how to speak French. She is able to help them as well as translate a letter Charlie Brown received before they left home. The letter is an invitation for him to stay at a local chateau, so after dropping off Marcie and Peppermint Patty with their host family, Charlie Brown, Linus, and Snoopy head to the chateau.
When they get there the boys discover no one is home and there are no preparations for them. So they make the best of things and sleep in the stable area. In the morning a breakfast has been magically assembled for them. But who brought it and why all the mystery?
The mystery of the chateau is foremost in the plot. But the fun comes via the kids and Snoopy. These guys are always good for a laugh. Peppermint Patty is convinced Pierre, the little boy hosting the two girls, is enchanted with her. The truth is, Pierre is really attracted to Marcie but Peppermint Patty's ego doesn't see that. All she sees is that she is the object of his affections. Typical Peppermint Patty.
This is a fun film and because it encompasses three countries, the settings and encounters in which the kids find themselves are often laugh-out-loud funny. These little kids have stolen the hearts of viewers for decades and they continue to do so in this movie.
A "making of" bonus featurette explains how the story came to be. Charles Schultz, the creator of the comic strip, had spent time in France during the war and as viewers see, the cafe in which Snoopy spends much of his time was created to represent the one Schultz visited while in France. Plus, the chateau where Linus and Charlie Brown sleep represents the chateau from Schultz's history during the war.
The filmmakers did not have modern technology at the time they created this movie so they relied on hand made drawings, which for a feature length animated film was daunting because keeping viewers interested in an animated movie was tricky. But they managed beautifully and with the help of the beloved Peanuts characters, this film remains a beloved story.
Bon Voyage Charlie Brown, And Don't Come Back! is rated G for all audiences.
About the Author
Francine Brokaw has been covering all aspects of the entertainment business for 20 years. She also writes about technology and has been a travel writer for the past 12 years. She has been published in national and international newspapers and magazines as well as internet websites. She has written her own book, Beyond the Red Carpet The World of Entertainment Journalists, from Sourced Media Books.
Follow her on Twitter