'Born Free – The Complete Collection' on DVD
Category:
Blu-ray's and DVD's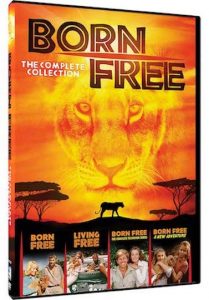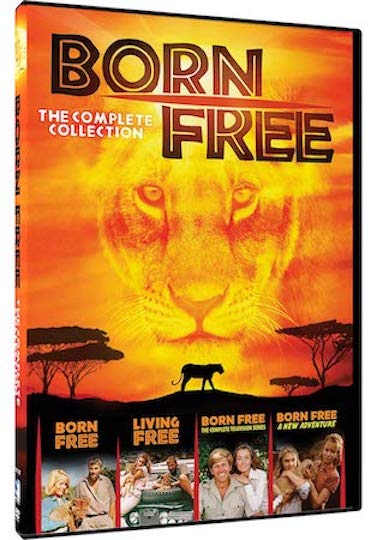 Elsa the young lioness captured the hearts of moviegoers when the film Born Free premiered in 1966. The beautiful title song was the Academy Award winner, as was the score. Now all of the Born Free movies and TV show are included in one package.
Born Free starred Virginia McKenna and Bill Travers as Joy and George Adamson. This is the true story of how they raised the lion cub and eventually trained her to be wild. This had never been done before. Previously lions raised by humans were turned over to zoos. But Joy insisted that Elsa be set free. To do this she and George worked tirelessly to train Elsa to look out for herself in the wild. It was touch and go for a while, but soon Elsa took her place in wild Africa, and eventually returned to Joy and George to show off her three cubs.
In 1972 the adventure continued in Living Free with Elsa's three cubs learning to make it on their own after their mother died of disease. This time Susan Hampshire and Nigel Davenport took over the roles of Joy and George Adamson. This is another true story. The couple again worked to capture the trio and eventually release them in the Serengeti where they would hopefully join a tribe and live free among their kind. This would ensure that humans would not hunt them.
These are beautiful stories of nature, but I have to confess I did shut my eyes a couple times. The story of Elsa is bittersweet. Humans killed her parents, yet in return they raised her and her two sisters who eventually went to a zoo. Elsa was special and remained in the care of the Adamson's until it was necessary for a change.
The 1996 movie Born Free: A New Adventure is a bit different. This time a young lion cub – also named Elsa – is being raised by humans (Linda Purl and Ariana Richards) until she can survive on her own or go to a zoo. Dr. David Thompson (Chris Noth) moves his two children to Africa to work at a local hospital. The kids are not happy about moving from the U.S.A. to the wild of Africa, but Elsa works her magic. And the beauty of the land wins them over.
In 1974 the short-lived TV series Born Free starred Gary Collins and Diana Muldaur as George and Joy Adamson. All 13 episodes are included in this collection.
Born Free is rated PG and Living Free is rated G. Yes, there are killings in both, by humans and animals, but the beauty of the lions and the heartfelt stories are engaging. And there is no way anyone will get that beautiful song out of their head for days after viewing the original movie. It is perhaps worthy of wondering why humans take these amazing animals as trophies. They are beautiful and hunters should be ashamed. Bring Elsa home to your family in this all-inclusive DVD collection.
About the Author
Francine Brokaw has been covering all aspects of the entertainment industry for over 25 years. She also writes about products and travel. She has been published in national and international newspapers and magazines as well as Internet websites. She has written her own book, Beyond the Red Carpet The World of Entertainment Journalists, from Sourced Media Books.
Follow her on Twitter