'Couples Therapy' premieres on Showtime
Category:
Television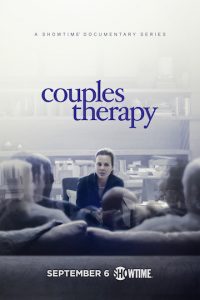 Just when I was dreading the upcoming loss of my psychoanalytic lollapalooza, namely The Affair, Showtime has an ace up their sleeve. A new documentary series, Couples Therapy, celebrates and showcases that it is possible to find common ground with someone who sees the world quite differently than we do. It's not a relationship drama per se, but it certainly whets my unquenchable appetite for my favorite pastime – psychoanalyzing everything and everybody.
Couples Therapy chronicles four couples engaged in therapy with a therapist/psychoanalyst for the duration of 20 weeks. Josh Kriegman and Elyse Steinberg, who brought us the award-winning 2016 film Weiner, had wrestled with questions for quite some time; Is it possible to capture what's so extraordinary about therapy? Is it possible for people to be open, raw, and real while filming it? Kriegman grew up "being exposed to the language of therapy and hearing stories of breakthroughs and transformations that took place in therapy." His parents – yes, you've guessed it! Therapists.
Kriegman, in our phone interview, pointed out that the film Weiner, which followed former New York Congressman Anthony Weiner to his ultimate demise, inspired them to finally jump into this docu-series. "What's going on in relationships is always way more complicated than it appears and it's way more difficult to judge than you might think. So after having an experience with the film about Anthony Weiner, we were excited to delve deeper into that truth and that dynamic between people and see if there's a way to really get a chance to experience relationships from being inside."
Casting a very wide net through all the channels imaginable, Couples Therapy found Orna Guralnik, PsyD. "Orna is a true believer in the power and value of therapeutic process. She is brilliant, skillful, and caring," raved Kriegman about his kindred spirit in terms of the mission and the vision of the series. The nature of a couples therapist is unique; like walking a tightrope, you have to remain absolutely balanced between two opposing spouses. Dr. Guralnik's dilemma and struggles are expressed beautifully in conversations with her clinical advisor, Virginia Goldner, PhD. You'll definitely feel like a fly on the wall because neither her clients nor the general public are privy to their candid discussions.
Out of 1,000 applicants, four couples survived the rigorous casting processes: Annie & Mau, married 23 years, Elaine & DeSean, 11 years, Evelyn & Alan, 6 years, and Lauren & Sarah, 2 years. The first three heterosexual couples had contemplated and discussed separation. They had one thing in common, though; they came to see if Dr. Guralnik can fix the problem spouse so that they can go back to their 'normal, happy-ish' lives. Ah, if only it's that easy…It takes two to tango, folks!
The biggest issue of modern marriage is we are expecting too much of our marriage without investing enough time and effort into our relationships to make these high expectations remotely attainable. Have you noticed we now expect our spouses to attend to our professional, physical, mental, emotional, and spiritual needs? We have become more reliant on our partners to achieve our self-esteem, self-discovery, self-actualization, and self-everything! These tasks used to be handed over to therapists, doctors, life coaches, colleagues, friends, and families. Utterly impossible for one person to be every professions and everybody under the sun! In other words, we put way too much on each other's plates and eventually break the marriage.
Marriage. Couples therapy. Divorce. Been there, done that. Getting a divorce was the most traumatic event in my entire life and I'll never put myself through that wringer again. Although I believe Dr. Guralnik could have saved my marriage with her deep compassion for couples (the show suggests she is a divorcée herself), this fascinating docu-series reminded me that I need to stay single and happy for the rest of my life. I'm just too busy taking care of myself.
Couples Therapy premieres Friday, September 6, 2019 on Showtime and new episodes will air weekly for the next 8 weeks. However, all nine episodes will be available on September 6 for on-demand streaming, via the Showtime and Showtime ANYTIME apps.
About the Author
Meg Mimura is a TV critic who actually watches shows zealously in search of thought-provoking and paradigm shifting human drama worth our precious time. She is a member of Television Critics Association. Follow her on Twitter.