Duffy the Disney Bear
Category:
Travel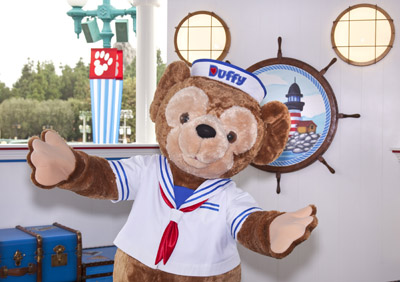 Duffy is not a character in a movie. He doesn't have a show on television. Yet he is a popular little bear. So, who is Duffy? Duffy is Mickey Mouse's teddy bear. Yes, you read correctly. Mickey Mouse has his own stuffed teddy bear.
The Story of Duffy
When Mickey was preparing to leave on a sea voyage, Minnie created a little teddy bear for him to keep him company when he was away. He carried the bear in his duffle bag, hence the name Duffy. Mickey traveled around the world with little Duffy. Together they visited many places and had some great memories.
Duffy The Disney Bear
Duffy is a wonderful product from the merchandising team at Disney. Disney does some of the best merchandising and the creation of Duffy has been a gold mine for them. He's adorable and very, very soft.
The little bear comes in a variety of sizes. Some of them have their own outfits, however the 17-inch Duffy has a selection of outfits that fit this little guy. The main one, of course, is the little sailing outfit. After all, he did accompany Mickey on his sailing voyage. But there are so many other outfits that are made for this furry fellow. The newest one is a Sully costume, so Duffy can celebrate the new Monsters University movie in his fuzzy blue outfit. There are always new outfits on the horizon for this new Disney character.
Duffy at Disney's California Adventure
When you visit Disney's California Adventure Park, you'll definitely notice Duffy. He has his own meet and greet area at Paradise Pier. Take a photo with Duffy and get a hug. I can tell you from personal experience, Duffy loves to hug. I unwittingly walked out of the store right into Duffy's arms. He was waiting to give me a big, Duffy hug. This fellow loves to give hugs, and he gives the best hugs.
Besides his personal appearances at Disney's California Adventure in Anaheim, California, Duffy also visits guest at EPCOT in Walt Disney World in Florida.
Leave it to Disney to create a special character that is associated specifically with their parks and even more specifically with the iconic Mickey Mouse.
Duffy has become a beloved little bear and kids around the world are falling in love with him. Duffy is being spotted in various cities as kids have been taking their own Duffy's on their trips. Duffy is not only Mickey's bear, but he is now everyone's traveling buddy.
Don't forget to look for Duffy when you visit Disneyland or Walt Disney World. He's a favorite destination for kids of all ages.
About the Author
Francine Brokaw has been covering all aspects of the entertainment business for 20 years. She also writes about technology and has been a travel writer for the past 12 years. She has been published in national and international newspapers and magazines as well as Internet websites. She has written her own book, Beyond the Red Carpet: The World of Entertainment Journalists, from Sourced Media Books.
Follow her on Twitter
Like her on Facebook