'Graves' Season 1 on DVD
Category:
Blu-ray's and DVD's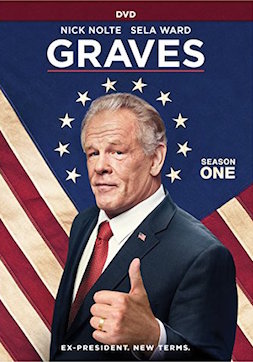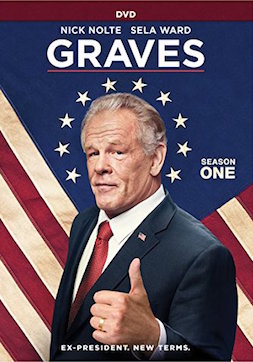 If you don't have EPIX in your TV channel lineup you probably haven't seen Nick Nolte and Sela Ward in the series Graves. Nolte plays a former president who looks back at his life and 8 years in the White House with regret. He is in his twilight years and wants to right some wrongs. And Ward is his loving wife who has her sights on her own campaign for Senate. Their two grown children (Helene Yorke and Chris Lowell) now live with them in their New Mexico estate, and each have problems of their own. This is the epitome of a dysfunctional family.
Nolte told members of the press, "So it doesn't matter whether it's president or not president or Republican or Democrat. It's a man that is aching. He knows he's going to die and he's looking back at his life, and some of the things he did earlier, he regrets the decisions of. There isn't a president that doesn't. But they don't do anything about it because they're in the public eye. We take license to be the satire and go into it."
Series creator Joshua Michael Stern also commented about the series. "We went to a lot of pains to make sure that this character pretty much skews both sides of the aisle, and through the whole series, you'll see that."
The first season is filled with many humorous scenes as viewers see just how dysfunctional the Graves family is and how they keep much of their problems behind their front door. But with Margaret Graves kicking off her own campaign at the end of the season, it might not be that easy to do in season 2.
Skylar Astin comes in as Isaiah Miller, the new assistant to the president. His job is definitely harder than he imagined. This wide-eyed innocent and idealistic man changes drastically over the first season. He sees that his idol is not the man he thought he was. Or is he?
This is a good series to binge watch during a snowy or rainy winter weekend. It is entertaining in many ways and the cast is outstanding. There is a bonus feature dedicated to the cast. Ward confided that she didn't want to do another TV series, but the writing and storyline of the show was too good for her to pass up. There is another bonus feature about making the first season, which was filmed on location in New Mexico.
Real life politicians make appearances throughout the series. This adds a bit of realism to this offbeat story. Nolte's President Graves is a no-nonsense gruff man. The f -word is bantered around by all the characters in practically every other sentence. Drug use and smoking, as well as some nudity, are part of the stories, so this is definitely a series for adults.
About the Author
Francine Brokaw has been covering all aspects of the entertainment industry for over 20 years. She also writes about products and travel. She has been published in national and international newspapers and magazines as well as Internet websites. She has written her own book, Beyond the Red Carpet The World of Entertainment Journalists, from Sourced Media Books.
Follow her on Twitter