'Inferno' – Movie Review
Category:
Movies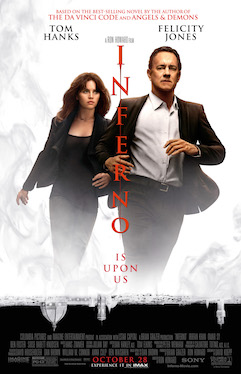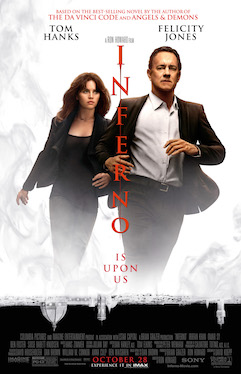 Robert Langdon returns in Inferno, another movie from bestselling author Dan Brown. This time Langdon (Tom Hanks) is caught up in an apocalyptic scenario that could mean the end of civilization.
Hanks returns as the Harvard symbologist professor who finds himself hunting down clues to the location of a virus that could kill billions of people. A "madman" who sees overpopulation as the biggest evil in the world created this virus and feels the only way to help is to cut the population drastically in one swoop by unleashing this new virus that will effectively kill over half of the world's population.
Langdon wakes up in a hospital in Florence, Italy. He has no idea why he is there. His memory is gone. With the help of a doctor (Felicity Jones) he escapes from the hospital when someone comes in trying to kill him. Sienna takes him to her apartment where they start to put the pieces together. Why is someone out to kill him? And why does he mysteriously have a vial that only opens with his thumbprint?
Once he opens the vial, he sees a map of Dante's Inferno and discovers there are additional clues. He and Sienna follow those clues from one location to another with two teams hot on their trail. Who is after him and what is he looking for? When his memory clears it becomes even more important for him to find the location of the virus. The clues lead him from Florence to Venice to Istanbul.
This is the third film in the Robert Langdon franchise. The Da Vinci Code (2006) introduced audiences to the character that had garnered the attention of readers of the best selling novel. Then in 2009 Angels & Demons hit the screen. And now Inferno. In each of these stories Langdon is called on to use his encyclopedic knowledge of history, symbols, and landmarks to solve mysteries that could ultimately be catastrophic to humanity. Hans Zimmer scored all three films and has been nominated and won several awards for the first two movies. Ron Howard has directed all three films in the series.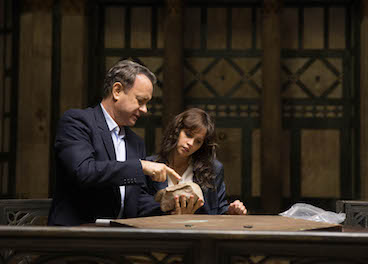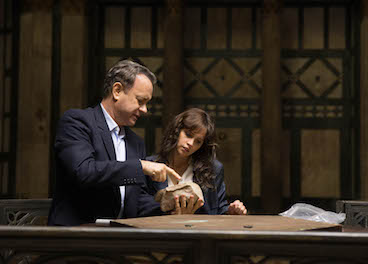 To date there is one other Dan Brown Robert Langdon novel available, The Lost Symbol, however fans of this character and the writer are looking forward to 2017 when the newest novel in the series, Origin, hits store shelves. The movie of The Lost Symbol is on hold because of similarities to the hit 2004 movie National Treasure, which starred Nicolas Cage. In fact, Cage's character of Benjamin Gates is very similar to Robert Langdon. They both have extraordinary knowledge of history, symbols, and locations. Viewers of Inferno might feel the two characters are interchangeable.
Inferno is an intense story however a bit disjointed in the way it is presented. The beginning is confusing however it does come together a little way into the film. Fans of the book will undoubtedly enjoy seeing the character on screen and in the actual locations. They filmed the movie in Italy, Turkey, and Hungary. If you haven't read the book, you probably won't enjoy this movie.
The Da Vinci Code started this franchise and is undoubtedly the best film in the series. It had something special that the others don't have, yet all three films have one great element – Tom Hanks.
Inferno is rated PG-13 for sequences of action and violence, disturbing images, some language, thematic elements and brief sensuality.
About the Author
Francine Brokaw has been covering all aspects of the entertainment industry for over 20 years. She also writes about products and travel. She has been published in national and international newspapers and magazines as well as Internet websites. She has written her own book, Beyond the Red Carpet The World of Entertainment Journalists, from Sourced Media Books.
Follow her on Twitter