January 2016 TV Roundup
Category:
Television

Welcome to 2016, television-style, a year already heating up with stellar names like Jennifer Lopez, John Travolta, and Zach Galifianakis; the graduation of some Webcam staples to the big leagues; a number of foreign knockoffs; along with familiar reboots. There's even a Harry Potter-inspired series targeting the millennium generation.
Getting the jump, Showtime is streaming the first episode of Billions on YouTube, Facebook and Sho.com New Year's Day before moving into its regular time slot on Jan. 17. Tossed in as a bonus from Showtime is the sixth season premiere of Shameless. Billions cast Paul Giamatti as a tough-as-nails US Prosecutor out to stop morally corrupt Wall Street hedge fund billionaire (Damian Lewis).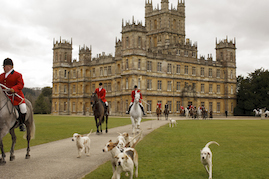 Bidding a sad farewell is the final season of Downton Abbey on Sunday on PBS as the privileged, provincial life of Robert Crawley (Hugh Bonneville) begins to take a nosedive. Already his blueblood neighbors have begun liquidating their properties and it's only a matter of time until the Earl of Grantham follows suit.
Offering some consolation to diehard Downton Abbey fans, PBS has Mercy Street waiting in the wings circa 1862 during the Civil War. The sometimes-volatile historical drama revolves around a northern abolitionist Mary Phinney (Mary Elizabeth Winstead) and a southern belle Confederate sympathizer (Hannah James). They both tend the needs of the injured soldiers. Contributing a note of authenticity, the series' storyline is based on real events that occurred at the chaotic Mansion House Hospital.
A busy weekend, this FOX-TV's Cooper Barrett's Guide to Surviving Life pledges to guide viewers through life's messier situations, such as spending a night in jail, or sending an inappropriate text. Jack Cutmore-Scott serves as the titular guide. An ensemble effort numbers in the ranks is Meaghan Rath, Justin Bartha, and Liza Lapra.
Family Guy writer Mark Hentemann transports viewers to the United States-Mexico border for his latest animated satirical series, Bordertown. Centering on two families – the Buckwalds and the Gonzalezs – on Sundays. Hank Azaria lends his voice to Bud Buckwald, a Border Patrol agent, whose views are frozen in another era, while Nicholas Gonzalez's character Ernesto Gonzalez, is an ambitious immigrant, who runs circles around his neighbor both financially and intellectually.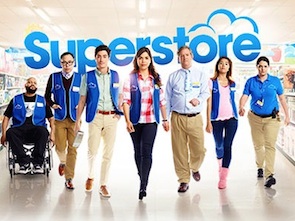 What are the odds of three series prefixed by "Super" premiering on the same night at the same hour? NBC's Superstore follows the shenanigans of employees at a fictional big-box store. The thinly veiled homage to Walmart, complete with associates' blue vests, is headed by Ugly Betty's America Ferrera, the store's most stalwart employee who is the glue that holds the place together. Providing the necessary conflict is the klutzy new guy (Ben Feldman from Mad Men) who believes that work doesn't have to be boring.
Mind-boggling, Superhuman, hosted by Kal Penn, is a one night competition airing on FOX. It pits 12 ordinary people each possessing a distinct "superhuman ability" against each other for $100,000 in prize money. Based on a German show, the judges include Mike Tyson, comedian Mary Lynn Rajskub, and neurosurgeon Dr. Rahul Jandial. Rounding out the trio is the return of Supergirl on CBS.
Tuesday, Jan. 5 on MTV The Shannara Chronicles is based on Terry Brooks' series of fantasy-sci-fi books. The backdrop is thousands of years forward after the destruction of civilization. A magical Ellcrys tree protects the realm of Four Lands from evil. Unfortunately, it's dying. Two elves, Amerle (Poppy Drayton) and Will (Austin Butler) embark on the quest to create a new Ellcrys tree. Expect epic battle scenes and beheadings of winged beasts.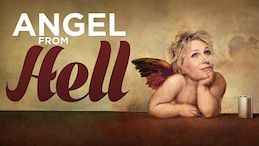 What would a normal person's reaction be if a complete stranger claimed to be your guardian angel? Exactly. That's the dilemma facing a straight-laced dermatologist named Allison (Maggie Lawson) when brassy, inebriated Amy (Jane Lynch) unexpected shows up pledging to "safe guard her journey through life" and make her "happy."  Angel From Hell premiers Thursday, Jan. 7 on CBS.
Shades of Blue on NBC casts Jennifer Lopez as Harlee Santos, a single mother and crooked NYPD detective, who is caught red handed accepting an overstuffed bag of protection money. Forced by the FBI to rat out her equally dirty co-workers, Santos locks horns with her boss, Ray Liotta of GoodFellas fame, who's determined to find the mole in his department. Compounding Harlee's paranoia is Warren Kole, who plays her FBI handler.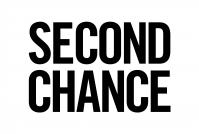 It's no accident that Fox's Second Chance was originally titled The Frankenstein Code since it was inspired by the mythology of Mary Shelley's time-honored novel. Premiering Jan. 13, the protagonist is a 75-year-old disgraced ex-sheriff, who is resurrected by a pair of tech twins.  The new, improved version of Jimmy Pritchard (Rob Kazinsky) is an attractive, superhuman strong 35-year-old.
Parents of elementary school children might have second thoughts about what their kiddies are learning after taking a gander at Teachers Wednesday, Jan. 13 on TV Land. The pilot features six rowdy, self absorbed teachers (members of the Katydids, who created and wrote this irreverent sitcom). Using their students to stalk exes doesn't qualify as routine homework. The antics at Fillmore Elementary first originated as a Web series of the same name.
Diehard fans of Lost are being rewarded for their allegiance to Josh Holloway and series' executive producer Carlton Cuse.  Their new hybrid sci-fi, spy series Colony, premiering Jan. 14. on USA finds LA overcome by a military invasion of "outside intruders."  The hero's only hope of being reunited with his missing 13-year-old son is to infiltrate a resistance group.
Exercising a bold, innovative marketing approach, TBS will air Angie Tribeca as a 25-hour long marathon stretching from Sunday, Jan. 17 through Monday before rolling out the show's already-ordered second season on a weekly basis. Bearing all the markings of a winner fresh out of the gate, show creators Steve and Nancy Carell had the good fortune to cast Rashida Jones in the title role. As a member of LA's Really Heinous Crimes Unit, Angie disarms the bad guys with deadpan puns and slapstick gags, the delivery of which would make Leslie Nielsen proud.
Better than Cliff Notes, A&E Networks is adapting Leo Tolstoy's War and Peace as a six-part limited series beginning Jan. 18.  Lily James of Downton Abbey fame has been tapped to star as Natasha Rostova, while Paul Dano fills the boots of Pierre Bezukhov.
There's no lack of super heroes, courtesy of DC's Legends of Tomorrow, airing Jan. 21 on CW. Time traveler Rip Hunter (Arthur Darvill) assembles a troupe of heroes and villains to confront the immoral dictator Vandal Savage (Casper Crump).
Talk about pedigree, Baskets premiering Jan. 21 on FX is the birth child of Zach Galifianakis, Louis C.K. and Jonathan Krisel's comedic minds. As Chip Baskets, Galifianakis dreams of being a French clown, but financial difficulties and the impenetrable language barrier quickly squash those aspirations. So it's back to Bakersfield where he takes a job as a rodeo clown. Now he's dodging bulls instead of hecklers.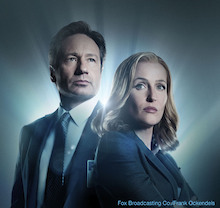 Thirteen years have passed since The X-Files went off the air. Big news, Mulder and Scully return and continue to search for "the truth out there," in an episode titled "My Struggle" which launches the six show reboot on Jan. 24 on FOX. Listed on the roster of guest stars are Joel McHale, Robbie Amell, Lauren Ambrose, and Rhys Darby.  Annabeth Gish and William B. Davis reprise their roles as FBI Agent Monica Reyes and "Cigarette Smoking Man" respectively.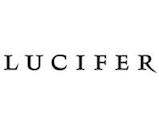 Who knew, even the devil gets bored with his wicked existence? Lucifer, debuting Jan. 25 on FOX, lands the lord of hell in the middle of LA where he opens an upscale nightclub. Lucifer (Tom Ellis) is both charming and sinful and has a knack for drawing out people's secrets, but as time evolves he experiences an unsettling desire to dole out punishment to the bad guys. Predictably, there's one woman, Detective Chloe Decker (Lauren German) that appears immune to his charms.
Forget Hogwarts School of Witchcraft. The Brakebills University for Magical Pedagogy makes it look like child's play. The Magicians premiering Jan. 25 on Syfy teaches the real art of magic and its spells pose imminent danger to humanity.  Heading the cast is Jason Ralph as student Quentin Coldwater. Readers of Lev Grossman's best-selling novels already have a pretty good idea of where the storyline is going.
Some elements of WGN's Outsiders, airing Jan. 26, share striking parallels with Sons of Anarchy. In this case, the violence originates from a clan of modern day Appalachian hillbillies known as the Farrells, who employ any means possible to defend their turf. Actor David Morse portrays the most powerful male on the hill and is in line to be the Bren'in or the Farrell king. However there's another strong contender (Joe Anderson) which promises to raise the tension level.
The countdown begins. In 34 days a comet will destroy Earth. You, Me and the Apocalypse, debuting Jan. 28 on NBC, follows an unusual assortment of mismatched characters from the Vatican to England and America, who begin to intersect in the most unlikely ways.  A sampling includes Rob Lowe as a rebellious, foul mouthed priest tasked to being the "devil's advocate," Megan Mullally as an unhinged white supremacist, and Jenna Fischer as a mild-mannered librarian sent to maximum security prison for a crime she didn't commit.
January ends on a musical note as FOX follows NBC's lead in staging some of Broadway's greatest crowd pleasers. The figurative curtain goes up on Grease: Live on Jan. 31.  Portraying the star-crossed lovers are Julianne Hough as Sandy, and Aaron Tveit as Danny.
About the Author
Winnie Bonelli is a former entertainment editor for a daily metropolitan New York City area newspaper. She is passionate about movies and television and loves to take readers behind the scenes.