Last Vegas - Movie Review
Category:
Movies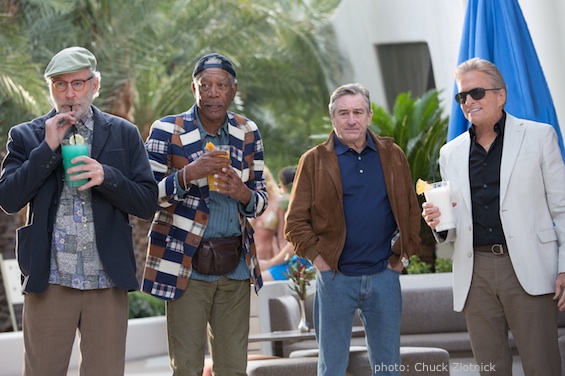 Last Vegas is the story of four men who have been friends for 60 years. How many of us can say we have known our best friends our entire lives?
Billy (Michael Douglas), Paddy (Robert De Niro), Sam (Kevin Kline), and Archie (Morgan Freeman) were known as the Flatbush Four when they were growing up in Brooklyn. Now Paddy has been mourning the loss of his wife for the past year, Sam moved to Florida and has a new hip and a new knee, Archie is living with his son's family and recently suffered a small stroke, and Billy is in Malibu living the good life. As a matter of fact, he is going to marry a woman half his age, having proposed at a friend's funeral. Does death make us think more about our lives? Of course.
Billy invites his pals to Las Vegas for a blow-our bachelor party. It will be "the best bachelor party in the history of mankind," they tell him. Sam and Archie have to trick Paddy into going to Nevada, knowing that there is a rift between Billy and Paddy. But they are best friends and they all want to be together. Can you say "Par-tay?"
Getting old is inevitable. But even though our bodies age, we still feel young. "My brain cannot conceive how old this body is," one of them remarks. However, these four old bodies have a lot of life left in them, as they all discover while in Sin City.
The story can be described as Space Cowboys meets The Big Chill. It's Cocoon in Las Vegas. It shows that even though a body is old, or older, there is a young person inside who still feels, loves, and desires to enjoy life. While there are some funny aspects of this movie younger audiences will enjoy, it's really meant for the older crowd. It's rated PG-13 for sexual content and language. I would say it's a great date night film for anyone over 50, and especially anyone over 60, and even more so for anyone over 70. The onscreen chemistry between the foursome is entertaining, making it difficult to single out one character more than the other. They each have their dramatic and comedic scenes.
Loyalty and love is the theme that runs through the film. It shows that young people can learn a lot about life from senior citizens. The Medicare/AARP generation can still get it on! Last Vegas opens in theaters November 1, 2013.
About the Author
Francine Brokaw has been covering all aspects of the entertainment business for 20 years. She also writes about technology and has been a travel writer for the past 12 years. She has been published in national and international newspapers and magazines as well as Internet websites. She has written her own book, Beyond the Red Carpet: The World of Entertainment Journalists, from Sourced Media Books.
Follow her on Twitter
Like her on Facebook