'Long Way North' – Movie Review
Category:
Movies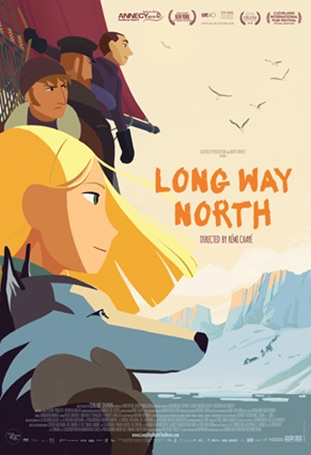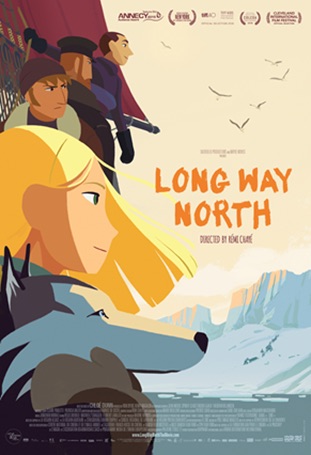 Long Way North is a captivating animated film about a young girl who will stop at nothing to find her grandfather's missing ship. The story takes place in the late 19th century in Russia at the time of the Czar. Sacha comes from a noble family. Her grandfather, Oloukine, was a famous explorer who was intent on placing the flag at the North Pole in honor of his country, however something went wrong and he was never heard from after his expedition left for the pole.
Sacha is proud of her grandfather and just as excited about exploring. She has an adventurous spirit and very little fear. So when she runs away from home to search for her grandfather's missing boat, she is not only determined but also courageous and a bit plucky.
This young girl has led a privileged life. After her gullibility led her to trade her special earrings for passage to the North Pole, she discovers she was duped. So alone in a small village with no money and no place to stay, Sacha is given food and board in exchange for working in a tavern. Work is new to this aristocrat but she digs in and works hard, knowing that one day she will find passage to the North and be able to hunt for her grandfather's ship.
Once she is finally on her way, Sacha faces more problems and much more danger. But her determination and cunning helps her through all the tough times. This young girl is caring, steadfast, and unwavering in her quest. Even when it seems she and the rest of the crew on the ship will perish, she keeps going and her resolve gets them through.
This is the story of Sacha, a girl who never gives up. She has heart, love for her grandfather, grit, and fortitude. You could say she takes lemons and makes lemonade, sees the glass as half full, and has faith in herself.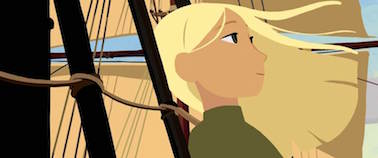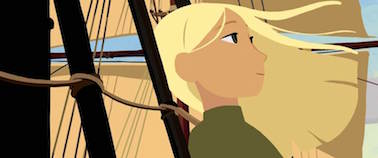 Even though this is an animated film, I found myself completely immersed in the story and thought if it were a live-action film it would be just as entertaining. Sacha is a compelling character and a force of nature and she makes this a thoroughly enjoyable movie.
Long Way North is definitely a film the whole family will enjoy. While the animation is simple, the story is absorbing and everyone will be rooting for this young girl who proves she can follow in her grandfather's footsteps even in this day and age where girls were not supposed to be explorers. Sacha is a strong girl and holds herself up against all odds and against a sometimes-hostile crew. She is a true heroine.
Long Way North is rated PG for peril and mild language. It opens September 30, 2016.
About the Author
Francine Brokaw has been covering all aspects of the entertainment industry for 20 years. She also writes about products and travel. She has been published in national and international newspapers and magazines as well as Internet websites. She has written her own book, Beyond the Red Carpet The World of Entertainment Journalists, from Sourced Media Books.
Follow her on Twitter