'Loretta Lynn: Still a Mountain Girl' on PBS
Category:
Television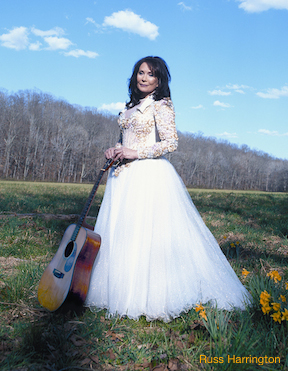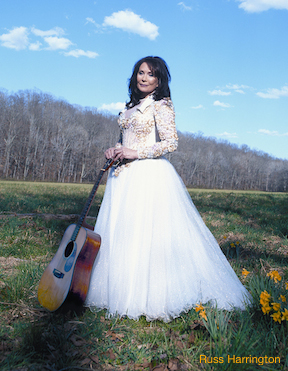 American Masters on PBS has produced an amazing film about Loretta Lynn. This woman has had an interesting life and a long-running career. In her 80s now, she is still singing, performing, and writing. Loretta Lynn: Still a Mountain Girl explores her Appalachian roots, her marriage, her family, and her career. This is one woman who has had an enormous impact on the world of country music and music in general.
The 1980 film Coal Miners Daughter starred Sissy Spacek as the famous singer/songwriter. The title was taken from Lynn's popular song about her early life. "I liked Coal Miner's Daughter, the movie," Lynn told the media. "I really did. And I thought Sissy did a great job, you know, and I thought Tommy Lee did too." Lee played Lynn's husband Oliver "Doolittle" Lynn.
Lynn and her family associate themselves with her hometown of Butcher Holler, and even one of her daughter's says the family's roots in the tiny town is engrained in all of them.
The film includes interviews with Lynn, some of her children and granddaughter, as well as others in the business like Willie Nelson, Trisha Yearwood, Garth Brooks, and Reba McEntire. Lynn is called "The Queen of Country Music," and rightly so. Her songs strike a chord in people. She writes about real people and deep feelings.
She entertained the media with a story about how she wrote one of her hit songs. "Well, you know, when I write a song, it's usually something that I'm going through that day, or that week, or that month, or somebody that I know that's going through that problem. Like, when I wrote 'You Ain't Woman Enough,' this little woman come backstage, and she said, 'Loretta, my husband didn't bring me to the show tonight.' She said, 'He has got a girlfriend, and he brought her.' And she says, 'She's sitting out in that second row with my husband.' And we kind of pulled the curtain back and looked at him, and I looked around at that lady that came backstage, and I said, 'Honey, she ain't woman enough to take your man.' I went in the dressing room right then and wrote that song before the show ever started." Talk about the ability to put pen to paper. This woman can do it in a blink of an eye.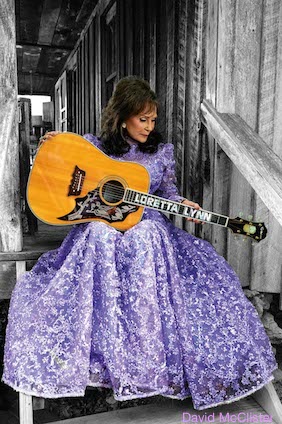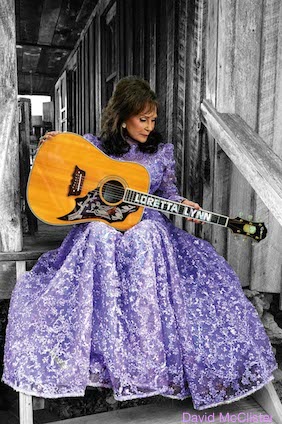 Lynn is a hard-working woman with a new album being released the first week of March. "I ain't never stopped touring. I work all the time. I couldn't sit down and quit working if I wanted to."
Lynn admits the worst part of touring was being away from her children. She had 6 children, four of which were born before she was 19 years old.
Most of her songs were written about her husband. "But every time I'd write a song, and it would be about him, and he would look at me and grin, you know. He knew I was writing it about him," she said with a smile to the media gathered to hear from this iconic woman. He definitely gave her a lot to write about. Their children discuss how volatile their relationship was through the years, but they continued to stay married. After all, because she was away so much, the distance did their marriage good.
In the film Lynn discusses her tragic loss of their son and her husband's life and the loss of the man who had been her constant admirer.
The documentary is an exceptional in-depth look at the life and career of Loretta Lynn. With insights from the family as well as singing by Lynn, her family, and others in the business, this is a film that is the true story of this woman whose influence on the music industry will last forever.
For those interested in more about Loretta Lynn, after the movie make a reservation to visit Hurricaine Mills, Tennessee. It's a small town west of Nashville and owned by, you guessed it! – Loretta Lynn.
Loretta Lynn: Still a Mountain Girl premiers on American Masters March 4, 2016 on PBS. It's the quintessential story of the Queen of Country Music.
About the Author
Francine Brokaw has been covering all aspects of the entertainment industry for 20 years. She also writes about products and travel. She has been published in national and international newspapers and magazines as well as Internet websites. She has written her own book, Beyond the Red Carpet The World of Entertainment Journalists, from Sourced Media Books.
Follow her on Twitter