Maya The Bee Movie Buzzes Into Select Theaters
Category:
Movies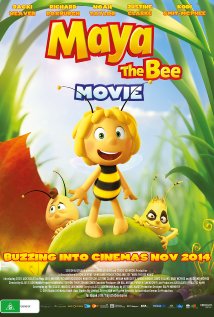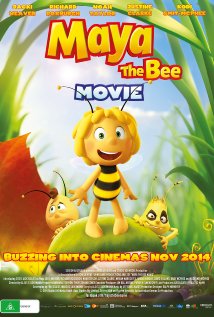 "Maya The Bee Movie" is rated G and has a run time of 79 minutes.
For more information about "Maya The Bee  Movie", please visit www.MayaTheBeeMovie.net
Studio Movie Grill will be presenting "Maya The Bee Movie" at select theaters at
3 pm on Sunday, March 8th and Sunday, March 29th.  Special Ticketing at $3.00.For more information about the screenings, please visit StudioMovieGrill.com
Synopsis
Maya is a little bee with a big heart. She dreams of an exciting life of freedom, fun and adventure – the world is simply far too interesting to stay inside a hive! Her funny attempts to fit in bring her into trouble with the Queen's narrow-minded royal advisor, Buzzlina. With her best friend Willy, Maya buzzes out into the meadow on an exhilarating adventure of self-discovery.
While most bees believe that other insects should be feared, Maya can't help but make friends with Flip the charismatic and eccentric grasshopper, Kurt the dung beetle and even Sting, a young hornet. But when the Queen's royal jelly is stolen, it will take Maya and all of her bug buddies to figure out who did it and how to save the day!
One of the best-known and beloved children's brands of all-time, the stories of Maya The Bee have been passed down among generations of families for years. Originally a German children's novel by Waldemar Bonsels, The Adventures of Maya the Bee was published over a hundred years ago in 1912. Since the original publishing, the book has been translated into many other languages and enjoyed by children all over the world. In addition to the book, Maya The Bee is also a comic book series, appeared in various iterations as animated series and now a major animated feature film.
Studio Movie Grill Locations for "Maya the Bee" Movie
Alpharetta           2880 Holcomb Bridge Rd. Alpharetta, GA 30022
Arena Grand       175 W. Nationwide Blvd. Columbus, OH 43215
Arlington               225 Merchants Row, Arlington, TX 76018
City Centre          822 Town & Country Blvd Ste 200 Houston, TX 77024
Colleyville            5655 Colleyville Blvd. Ste: 300 Colleyville, TX 76034
Copperfield         8580 Highway 6 North, Houston, TX 77095
Dallas,                    11170 N. Central Expressway, Dallas, TX 75243
Dallas,                    10110 Technology Blvd. Dallas, TX 75220
Dallas                     Spring Valley, 13933 North Central Expressway, Dallas, TX 75243
Duluth                    3850 Venture Drive, Duluth, GA 30096
Indianapolis       3535 W. 86th St. Indianapolis, IN 46268
Lewisville             1600 S. StemmonsFwy, Lewisville, TX 75067
Plano                       4721 W. Park Blvd Ste 100, Plano, TX 75093
Rocklin                   5140 Commons Dr.  Rocklin, CA 95677
Scottsdale           15515 N. Hayden Road, Scottsdale, AZ 85260
Tampa            12332 University Mall Ct.Tampa, FL 33612
Wheaton              301 Rice Lake Square Wheaton, IL 60189
Maya the Bee Movie will be available on DVD in May.