'Sometime Other Than Now' shows there are second chances in life
Category:
Movies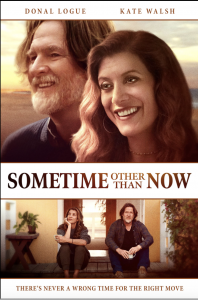 Donal Logue and Kate Walsh star in Sometime Other Than Now, a drama about life, love, and family.  It is about separation and reunions.
Sam (Logue) abandoned his wife and daughter over 25 years ago. He has been traveling the country on his motorcycle and living a fairly happy life. But deep down he wants to see how his daughter is faring, especially since he heard the news that her mother just passed away.
Upon returning to the New England town, he immediately crashes his motorcycle and is left without any transportation or identity, since his wallet was washed into the ocean. Kate (Walsh) lets him rent a room in her motel/café and the two begin a sweet relationship.
She is a lone and lost soul herself, and commiserates with the feelings of Sam. And when he finally confides the story of his past, she is the one who helps bring Sam and his daughter together. But will she be open enough to let him into her life after he abandoned her when she was a young child? And now that she has a daughter of her own, will she trust him enough that he will not do the same thing to them as he did to her over two decades ago?
This is truly a family drama. Opening up and forgiveness, even for horrible acts, is important when the contrition comes with remorse and a desire to set things right. Although Sam cannot replace all the years in which he was away, he can start anew with his family, if they allow him to do so.
And Kate is also in a transitional situation. She feels stuck in her life and desperately wants to get away. So, like she came to Sam's aid, he returns the favor.
Sam learns he can finally connect with another person and commit to his family and to Kate. And Kate finally finds a man with whom she can feel empathy, and yes, even love.
These two lost souls are very dramatic and unhappy characters. But by chance, they meet and perhaps the future is not as gloomy as it has seemed. For the first time in a long time, both Sam and Kate have fun, joy, laughter, and love in their lives.
Sometime Other Than Now is not rated however it could be considered PG due to subject matter and sexual situations.
About the Author
Francine Brokaw has been covering all aspects of the entertainment industry for over 25 years. She also writes about products and travel. She has been published in national and international newspapers and magazines as well as Internet websites. She has written her own book, Beyond the Red Carpet The World of Entertainment Journalists, from Sourced Media Books, is the entertainment correspondent for Good Day Orange County, and has her own TV show, Beyond the Red Carpet, on Village Television in Orange County. She is a longstanding member of the Los Angeles Press Club and the Television Critics Association and is accredited by the MPAA.