Nebraska on DVD and Blu-ray
Category:
Blu-ray's and DVD's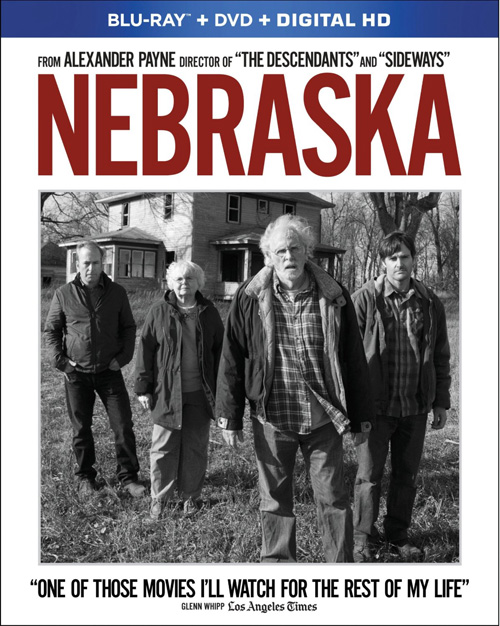 Nebraska has been nominated for many awards, including six Academy Awards. Bruce Dern leads the cast in this story of family, love, and aging.
Woody Grant (Dern) is getting old and maybe a little senile. He receives one of those promotional letters in the mail informing him he has won a million dollars if his number is the winning number. Of course, he doesn't see farther than the part saying he has won a million dollars. He's intent – and very stubborn – to get from his home in Billings, Montana to Lincoln, Nebraska to collect his winnings.
Seeing the determination in his father and wanting to spend some time alone with him and fulfill his dad's desire to get to Lincoln, David (Will Forte) agrees to drive him there, to the chagrin of his mother Kate (June Squibb) and his brother Ross (Bob Odenkirk), who both think Woody would be better off in a nursing home.
What plays out during their quest to Nebraska is a love story, not in the traditional sense, however. It is the love between father and son, and ultimately the love that binds a family unit together. While on their way to Lincoln, they are joined by Kate and Ross, and end up in a big family reunion in their small hometown.
Woody is adamant he has won the money, and David indulges his father. After all, the man is getting on in years and who knows how much longer he will be alive, or at least coherent enough to understand his life. Woody is oblivious to the idea that the letter is a scam, and informs everyone he has won a million dollars.
This is not a story about mail scams. It is a story about love. It is a story about family. It is a story of the ties that bind. And it is a story about aging.
The cast is amazing and deserving of all the accolades they have garnered. The movie is sad in the sense that it does look at the aging process of the mind, and enforces the fact that many older people don't have common sense, patience, or sometimes a grasp on reality.
The "making of" bonus feature looks at how the story came to be written and finally made into this acclaimed film. The film has many laugh-out-loud moments and many chuckles for viewers, but there are also many moments of reflection and spotlights on heartlessness and greed. In the end, however, it is more a look at the love that grows between a father and son.
Nebraska is rated R for some language. It's a movie strictly for adults.
About the Author
Francine Brokaw has been covering all aspects of the entertainment business for 20 years. She also writes about technology and has been a travel writer for the past 12 years. She has been published in national and international newspapers and magazines as well as Internet websites. She has written her own book, Beyond the Red Carpet: The World of Entertainment Journalists, from Sourced Media Books.
Follow her on Twitter
Like her on Facebook