'Never so Few' on Blu-ray
Category:
Blu-ray's and DVD's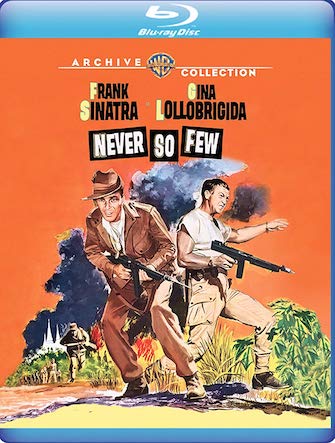 Frank Sinatra leads an interesting cast in the World War II film Never So Few. Among the other actors are Peter Lawford, Gina Lollobrigida, Dean Jones, Paul Henreid, and Charles Bronson.
The story has a band of American O.S.S. guerilla fighters joining with the Kachin locals in the jungles of Burma to fight off the invading Japanese. Sinatra is Captain Tom Reynolds, a man with a mission and a strong sense of right and wrong. This leads him to do things that others might not think is best, but he does them nonetheless.
While on leave Reynolds meets Carla Vesari (Lollobrigida) and immediately falls in love with her, even though she is with another man (Henreid). During this time out of the jungle, he recruits a much-needed doctor (Lawford) and another guerilla fighter (McQueen) who shows a knack for getting things done.
Fighting off the Japanese is tough enough, but the fighters also run into some renegade Chinese gangs who are killing the Americans as well as the Chinese who were sent to assist them. But Reynolds doesn't back down, even though it could mean a court martial. He leads his group on an unsanctioned mission into China where he discovers something horrific.
Never So Few is a typical 1959 film that made sure there was a love interest for the leading man. The movie was filmed on location in India, Thailand, Sri Lanka, and Burma (which is now Myanmar). This is, at its core, a war drama, however, and as such there are plenty of killings. The film is loosely based on the novel by Tom T. Chamales who penned the story based on his experiences in the O.S.S.' Burma campaign.
There are some interesting facts about the making of the film. This was Lollobrigida's first American movie. It was also McQueen's first film, having already made his mark on TV. Sinatra and Lawford were off-camera buddies and co-starred in many films, including Ocean's 11, Sergeants 3, and It Happened in Brooklyn. In 1960 McQueen teamed up again with Bronson in The Magnificent Seven and again in 1963 in The Great Escape.
Never So Few is part of the Warner Archive Collection and can be ordered on their website or online retailers.
About the Author
Francine Brokaw has been covering all aspects of the entertainment industry for over 25 years. She also writes about products and travel. She has been published in national and international newspapers and magazines as well as Internet websites. She has written her own book, Beyond the Red Carpet The World of Entertainment Journalists, from Sourced Media Books.
Follow her on Twitter