Pixar Pier at Disney California Adventure
Category:
Travel

Guests to Disney California Adventure are in for a real treat. A new area – Pixar Pier – has recently opened and there are several new areas that will be opening soon. So, what has been reimagined at this waterfront region of the resort? Plenty.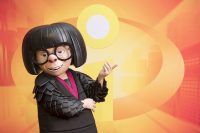 First of all, the Incredicoaster is not only a fun ride, but it also tells a story as guests travel through tubes and along the tracks. Incidentally, this is the fastest ride in the entirety of the Disneyland Resort! As guests get ready to board the ride, they realize little Jack-Jack and Edna Mode are not tall enough to ride the coaster. So Edna stays behind to keep a watchful eye on the little baby. But, as we all know by now, Jack-Jack has plenty of powers and soon escapes Edna's watchful eyes and is off on a journey of his own, with his family close behind. As guests ride the coaster, they see all the family members trying to catch up with little Jack-Jack. So not only is this a fun and fast coaster, it also tells the story of this adorable little baby who is full of mischief.
The Ferris wheel is also reimagined with each bucket decorated with a different Pixar character. This Pixar Pal- Around has several swinging gondolas that not only take guests on a high flying adventure above the land, but also on a swinging adventure. The wheel tops out at 150 feet high. This is only one of two Ferris wheels in the country that includes both regular gondolas that go around in a circle, but also has sliding gondolas that swing and sway with special movement as the wheel is spinning.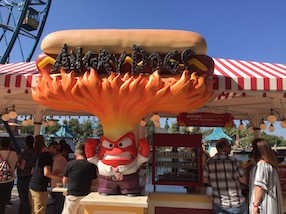 There are plenty of new places to grab some food while you're visiting the pier. If you're in the mood for chicken or a turkey leg, visit the Poultry Palace. Or if you are a bit more adventurous, try the spicy hot dogs at Anger's Angry Dogs. If you recall in Toy Story, Buzz has a "Spanish" mode, and at Senor Buzz Churros, you can munch on either sweet and colorful churros or spicy ones that taste like red hots. We cannot forget about those of us with a sweet tooth. Adorable Snowman Frosted Treats offers plenty of tasty goodies. Try the lemon soft ice cream with white chocolate on top.
The midway is a fun place for families to join together and play some games between eating and riding the attractions. There are several games that will test your skills, and yes, there are some fun prizes to win.
There is no shortage of Pixar items to purchase. Imagine all the Pixar characters we have fallen in love with through the years. They are together in this wonderful location inspired by the films and characters of Pixar.
Next year a new area of the pier will open, featuring Jessie's Critter Carousel. Personally, I cannot wait to see what she has put together for us.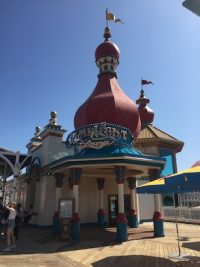 Dining in style has never been so much fun as in the Lamplight Lounge at the front of the pier. This is a great place to sit down, watch the activities outside, and enjoy some great food. Specialty drinks (both for adults and kids) as well as some wonderful selections of food will be enjoyed in this restaurant but the food isn't everything here. When you're there, look around. Everywhere you look are special Pixar touches.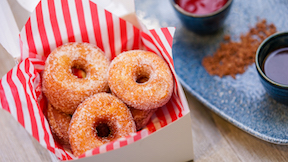 Can you spot Ellie and Carl's mailbox on the wall? While they have a nice variety of main course and lite bite selections, there is only one dessert – their donuts. These are delicious and come with both a warm chocolate and a raspberry dipping sauce. Can you say "delicious?" That's exactly what they are!
Pixar Pier is just one more fun addition to Disney California Adventure.
About the Reviewer
Francine Brokaw writes about travel, products, and entertainment. She has been published in national and international newspapers and magazines as well as Internet websites. She has written her own book, Beyond the Red Carpet The World of Entertainment Journalists, from Sourced Media Books.
Follow her on Twitter