'Ploey' flies onto the big screen
Category:
Movies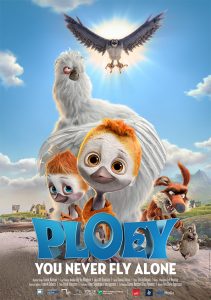 The animated film Ploey features the voices of Sean Astin and John Stamos in this story of a plover chick who is left alone and endures a winter filled with danger and friendship.
When Ploey is supposed to learn to fly, the little fellow gets cold feet. He's a timid little guy. And when he sees his father carried off by the evil falcon Shadow, his fears are raised even further.
Then, to make matters worse, little Ploey is taken by a cat and kept by a little girl in a cage. This little fellow is going through a lot. The rest of the plovers think he is dead. But from the window he sees his flock – that includes his mother and friend Ploveria – flying south for the winter. He tries to escape and when he does get out of the house, he is determined to join his mother and the rest of the flock by walking to Paradise Valley. But that is impossible.
Anyway, little Ploey meets Giron (Stamos) who befriends the chick. Spending the winter in this place is dangerous and there are evil characters at every turn. Plus, no plover has survived the cold winter here – hence their migration south. But Ploey has no choice. And finally he proves his bravery by helping Giron rid the land of the evil Shadow, thereby saving the flock from future harassment and deaths.
This is a sweet little story however some kids might be upset by the death of Ploey's father.
The film opens in theaters on April 26, 2019. Ploey is rated PG for mild peril and rude humor.
About the Author
Francine Brokaw has been covering all aspects of the entertainment industry for over 25 years. She also writes about products and travel. She has been published in national and international newspapers and magazines as well as Internet websites. She has written her own book, Beyond the Red Carpet The World of Entertainment Journalists, from Sourced Media Books, is the entertainment correspondent for Good Day Orange County, and has her own TV show, Beyond the Red Carpet, on Village Television in Orange County.
Follow her on Twitter