'Poldark' returns for season 3 on PBS' Masterpiece
Category:
Television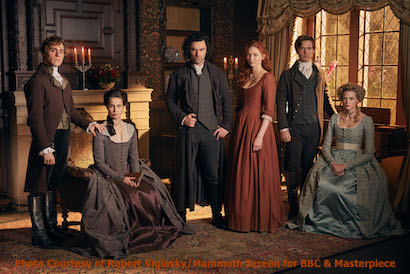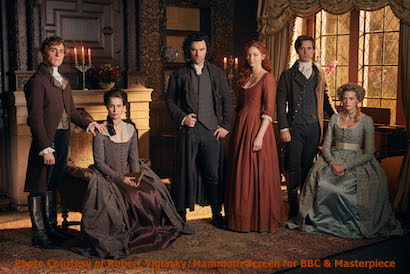 Poldark, the saga of the Poldark clan in Cornwall in the 18th century, returns Sunday, October 1, 2017 on PBS' MASTERPIECE. Season 3 centers around the three prominent couples; Ross & Demelza Poldark, George & Elizabeth Warleggan, and Dwight & Caroline Enys.
Now that George Warleggan (Jack Farthing) manipulated widowed Elizabeth (Heida Reed) into marrying him, he is a few steps closer to total wipe out of the Poldark realm. George would stop at nothing to move up the ladder to aristocracy once he bought his way into Trenwith, the Poldark family home, and the mines. He might be a so-called covetous sociopath since nothing can make up for New Money George's inferiority complex. In Season 3, George's self-loathing is manifested by his consuming political ambition. He might just get what he desperately desires – the ultimate revenge on Old Money Ross Poldark (Aidan Turner), his archenemy!
Ross is known for his numerous unconventional choices from the get-go. He busted out his farmhand from a jail with the help of his friend Dr. Enys (Luke Norris). He allowed his starving miners take food and cargo from a ship wrecked on his shore. He managed to pay off his debt by helping smugglers. He did follow his passion against maid-turned-wife Demelza's (Eleanor Tomlinson) better judgment and desperate plea, including a midnight rendezvous with Elizabeth, the one that got away. Years of fighting social injustice as well as George's relentless onslaughts take its toll on his marriage.
Ross Poldark is proud and pigheaded to a fault, but this man of principle seeks liberty, equality, and fraternity. Bravo! Despite his reckless behaviors, I'd say he is still my hero because I'm not married to him! When you marry a hero or a man on a noble mission with a moral compass intact, his family almost always comes last. Stop whining and scheming, Demelza! Get with the program or get out! Keep reminding yourself: How do you hold a moonbeam in your hand?
Immature men versus practical women. Whether you live in the 18th century Cornwall or 21st century Los Angeles, the human experience doesn't change that much, does it?
About the Author
Meg Mimura is a TV critic who actually watches shows zealously in search of human drama worth watching. She is a member of Television Critics Association as well as Academy of Television Arts and Sciences.