Schitt's Creek Airs on POP
Category:
Television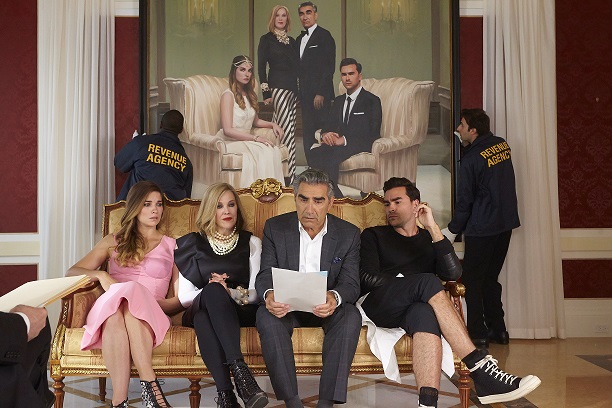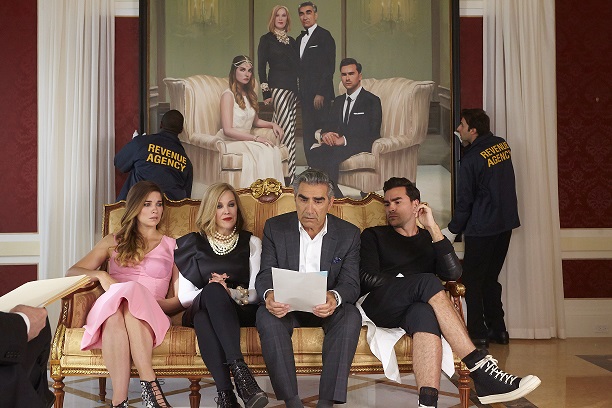 POP is about to premier their new sitcom called Schitt's Creek. All jokes aside about the title, it's a story about an extremely rich video store mogul, his soap opera star wife, this hip son, and their snobby daughter who wind up broke and must leave their pampered lives and move to a town they bought a long time ago called Schitt's Creek.
This riches to rags then maybe back to riches story has a fun cast. Eugene Levy and his son Dan costar for the first time, along with Eugene's longtime friend and cohort in several other productions, Catherine O'Hara. Annie Murphy plays their daughter.
Recently at the Television Critics Association Winter Press Tour, the cast discussed their relationships onscreen and off. Eugene Levy and Catherine O'Hara have been paired together on many productions, including SCTV, and the fun films from Christopher Guest (Waiting for Guffman, Best in Show, A Mighty Wind, and For Your Consideration) as well as the TV movie The Last Polka, and the animated film Over the Hedge. These actors are friends off screen and their comfortable 40-year relationship shows when they are together.
Eugene stated, "There's only one Catherine O'Hara, and you know, Catherine has an amazing ability to immerse herself in characters and find the funny bone of that character. She's very chameleon‑like in terms of how deeply she gets into character, but it's not just getting into character. She just has that knack of finding the funny moments, you know, that make the character funny without trying to be funny."
And Catherine, who has known Eugene's family for years, said it was, "very sweet to see Eugene and Dan standing next to each other [on set and onscreen].
This marks the first time the father and son have teamed up for a project. It was obvious Eugene is happy and proud to work with his son. "My reaction initially was, what a great thing this will be to be working with my son because all through school, everything that he had been associated with, every play, everything, I would offer my help and whatever I could do for him. And he would say, 'No, that's it. I got it. I'm fine.'" Eugene added, "So I always thought that basically, even if he ended up in show business, 'I got it' would be the catch phrase, and I would never end up having anything to do with him in this business."
But that has now changed. Daniel went to his father with an idea for a show. "And it started out as a nice father‑son project," Eugene said proudly. "I didn't know how far it was going to go, but we were going to develop a television show and see what happens. And very, very quickly, it dawned on me that he is exceptionally talented. He's a great writer. And this was all happening before my eyes for the first time because we had never worked together before. So it kind of went from being a lovely father‑son project to 'I can't believe what a great partner I have working on this show.'"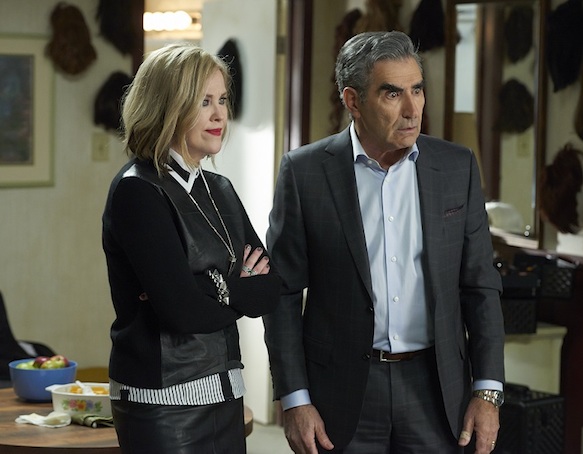 "The idea of a wealthy family losing their money, I felt like, could go in two direction," Daniel explained about coming up with the concept for the show. "It could go sort of as a sitcom, or it could be played very real, and that's when I thought of my dad because of everything that he's written with Christopher Guest and all of those movies and the sensibility that he brings and the heart that he brings to all his film and television roles. And, yeah, I thought it was a good fit. So we started talking."
Daniel confessed, "we were writing the show really right up until we started shooting, and Catherine's always been in my life. And I think I count my blessings, … I remember shooting the first scene and sitting down and thinking, 'Oh my God, what am I doing here? I'm standing opposite Catherine O'Hara. We're about to shoot the first season of this TV show.' I'm just very grateful that I didn't have a lot of time to think about it because it was very intimidating and amazing to actually be in that moment and realize what I was doing."
Everyone was singing the praises of Catherine O'Hara. "She's just a great actress," Eugene practically gushed. "And, again, like the movies that we did with Chris [Guest], which were kind of improvised but you kind of have to make them credible, and the characters have to be real, and the story has to be credible and grounded. To be able to kind of improvise in that way and still be a grounded character, there's not a lot of people who can kind of pull that off. Catherine was a first choice for this because she's the go‑to person, when you want to do something really exciting comedically."
Schitt's Creek is a cleverly written, smart comedy. It premiers on POP Wednesday, February 11, 2015. It's for adults, not for young viewers.
About the Author
Francine Brokaw has been covering all aspects of the entertainment business for 20 years. She also writes about technology and has been a travel writer for the past 12 years. She has been published in national and international newspapers and magazines as well as internet websites. She has written her own book, Beyond the Red Carpet The World of Entertainment Journalists, from Sourced Media Books.
Follow her on Twitter
Like her on Facebook