'Stan & Ollie' – Movie Review
Category:
Movies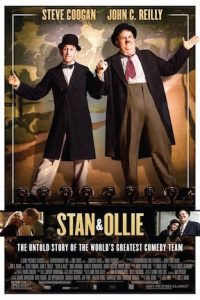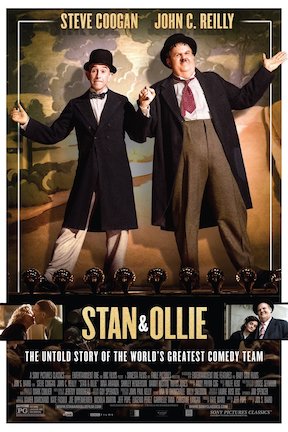 Stan & Ollie is a delightful story about Stan Laurel and Oliver Hardy in their waning years. The film includes many of their popular skits and brings audiences into their lives as the team that was once the biggest act tries to rekindle their popularity.
"You just have this wonderful picture of these two guys that had been such giants staying at little guest houses, playing tiny theaters and not realizing they did it because they loved each other," says writer Jeff Pope. "This is the thing that inspired me to write the whole film. It's a love story between two men."
They had parted ways after a difference of opinion with Hal Roach and as they picked up their act over a decade later, they realize there are still hard feelings between them however their dedication to each other never faltered.
To regain their fame and popularity, the duo traveled to the UK for a series of shows. In the beginning the theaters were not filled but as they continued they had SRO crowds wherever they went. Though a team on screen and on stage, they were just friends when they left the film lot or the theater, that is until they reteamed and began their upward journey.
As Pope explained, 'They were never really close until they took these arduous tours and they lived in each other's pockets week in, week out. The premise of the film is how they became as close in their real lives as they were in their fictional lives."
John C. Reilly plays Oliver Hardy and Steve Coogan is Stan Laurel. Their wives are an interesting element to the film. Nina Arianda is fun as Ida Laurel and Shirley Henderson is a loving wife as Lucille Hardy. Ollie was married three times and Stan was married five times.
The film shows Laurel as the brains behind the team while Hardy was content to gamble and play around. Laurel was always writing new material for them and always thinking about the act.
Although they had hoped to make a new film, the tour in 1953 turned out to be their swan song.
The casting of Coogan and Reilly was wonderful. They both inhabit their characters with empathy and charm.  Reilly had a major physical transformation to get into the skin, so to speak, of Oliver Hardy. It took 4 hours in the makeup chair to transform him into Ollie. "Only my face and the flats of my hands were exposed," he recalls. "The rest was encased in prosthetics or a fat suit. So, in a way it was like wearing a mask on your whole body. The mask was so convincing it made me believe from the outside in that I could play this character."  "You have to be very careful the viewer isn't thinking, 'What incredible make-up!'" explains Coogan. "They have to get lost in the performance, in the story. So, we didn't want anything too distracting."
Stan & Ollie is a wonderful tribute to this historic Hollywood team that still entertains fans via home entertainment and TV. If this film inspires you to see more of the real Oliver and Stanley, just check Amazon for plenty of DVDs and Blu-rays with their memorable performances. This bio-pic is both dramatic and comedic as it brings back the fun and sensitivity of these two Hollywood legends.
One additional note: Throughout the film Hardy is called "Babe" and viewers might wonder why. As Reilly explained, it was because his shape resembled and overgrown baby.
Stan & Ollie opens in theaters December 28, 2018.
About the Author
Francine Brokaw has been covering all aspects of the entertainment industry for over 25 years. She also writes about products and travel. She has been published in national and international newspapers and magazines as well as Internet websites. She has written her own book, Beyond the Red Carpet The World of Entertainment Journalists, from Sourced Media Books, is the entertainment correspondent for Good Day Orange County, and has her own TV show, Beyond the Red Carpet, on Village Television in Orange County.
Follow her on Twitter