'The Angry Hills' on DVD
Category:
Blu-ray's and DVD's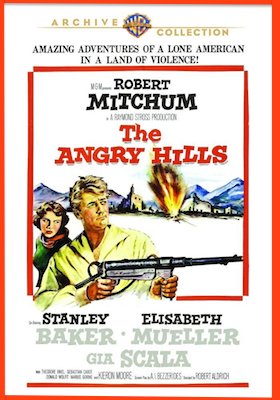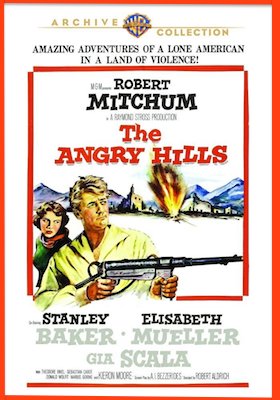 Robert Mitchum stars in The Angry Hills, a tense World War II story originally penned by Leon Uris. Mitchum plays Mike Morrison, an American journalist in Greece who unwittingly finds himself in the middle of a crisis and turns into the number one target for Nazis in the country.
With Germany taking over Greece, there are several collaborators within the country, as well as those in the resistance. Morrison is given a list of collaborators to take to the British however once it is in his custody he becomes the target for the Nazis, who don't want that list to fall into the hands of the British. He must find a way not only to survive, but to also get the information to the allies.
Morrison is taken under the wings of a group of resistance fighters but things go awry and he must trek across the country to safety with the Nazis on his trail. Those who help him end up dead. Will he?
This 1959 black and white film is not one of those "edge of your seat" stories. It is slow moving. The original book was written by Leon Uris who also wrote Exodus, Trinity, Battle Cry, Mila 18, The Haj, QB VIII, Topaz, and many other best-selling books. Most of his writing focused on World War II and what happened after the war.
The adaptation of The Angry Hills film from the original book takes some liberties with the story, however the main focus of Morrison, the Greek resistance, and the Gestapo remains the same. This is the tale of good versus evil, freedom versus occupation, and resistance versus compliance.
A journalist who finds himself the central focus of attention of the Nazis in Greece is in itself a crucial plot, however add to that the problem of his learning who and who not to trust is essential to the story. This is not one of the best Uris-adapted films, however it does impart the essence of the time.
The Angry Hills is part of the Warner Archive collection and can be ordered from their website.
About the Author
Francine Brokaw has been covering all aspects of the entertainment industry for 20 years. She also writes about products and travel. She has been published in national and international newspapers and magazines as well as Internet websites. She has written her own book, Beyond the Red Carpet The World of Entertainment Journalists, from Sourced Media Books.
Follow her on Twitter