The Disney Princess Reign Supreme
Category:
Movies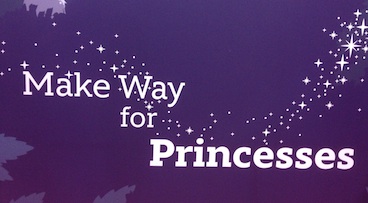 Snow White (1937) was the Disney Studio's first animated feature film. Besides ushering in a new legacy for film, the character of Snow White started what is perhaps the most cherished franchise in movie history – that of the Disney Princesses.
Before we get further into the realm of the Princesses, it must be said that Disney has immersed its films in royalty, through the years. Bambi (1942) was the Prince of the Forest. Simba (1994) was a Prince who became King, although he did connect with Nala who then became Royal. And come to think of it, Bambi did have a wife later on named Faline. So, when you think about it, Princesses are at the heart of Disney Royalty.
Let's go back to the beginning. Snow White was a princess who is rescued by a Prince. Next came Cinderella (1950) who married a Prince. Then came Aurora, aka Sleeping Beauty, a young Princess who is also rescued by a Prince. Those Princes were sure busy kissing Princesses. Snow White, Cinderella, and Aurora are the original classic Disney Princesses.
Then in 1989 Ariel swam into our hearts. She was born into royalty then married a Prince. Princesses marrying Princes is becoming a thing for Disney. But this time he doesn't rescue her. In fact, she rescues him, changing the dynamic of what a Disney Princess has been up until now. Ariel is the first modern princess. She can stand on her own two feet, or fins, whichever she happens to have at the time.
1991 brought us Belle, an intelligent young woman who falls in love with a Beast who just happens to be, yes, a Prince. Belle doesn't rely on the Beast, but he learns to rely on her.
Aladdin filled the screens in 1992. Jasmine was the daughter of the Sultan who falls in love with a common man and is finally allowed to marry him. So, for Disney purposes, the Sultan is considered a King making Jasmine a Princess.
The Lion King ultimately brought us Nala, and Bambi gave us Faline, but let's just keep this about the human Princesses.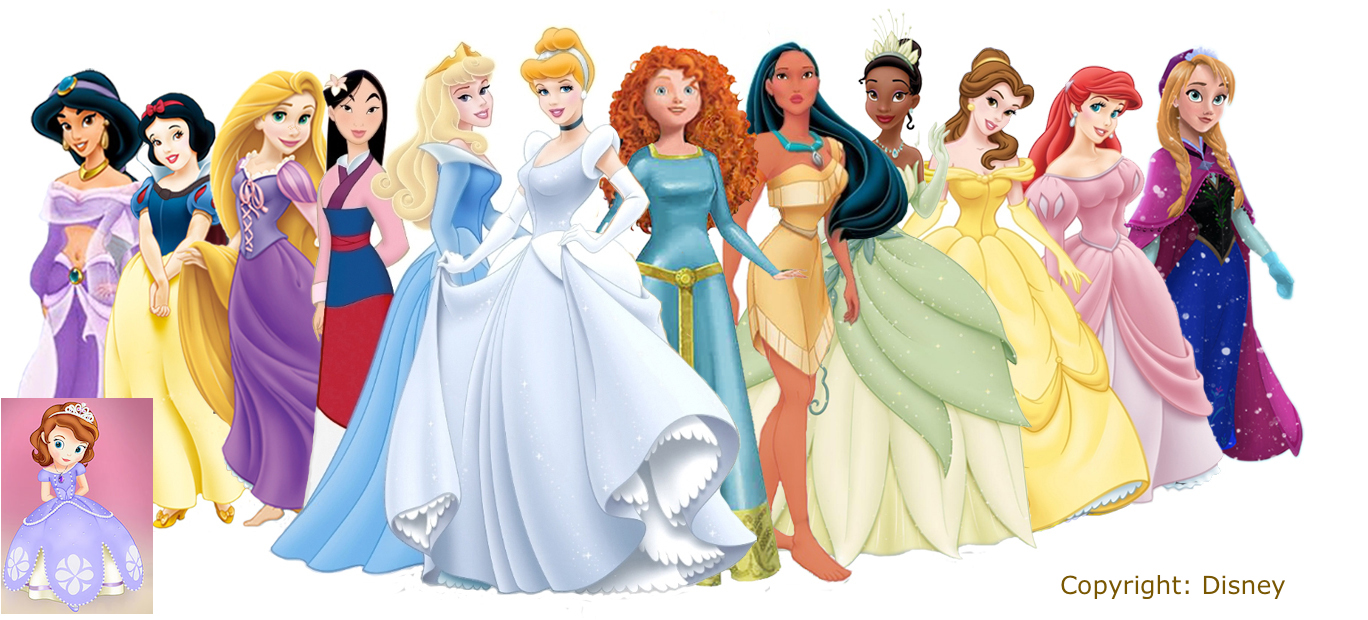 In 1995 Pocahontas, the daughter of an Indian Chief in The New World, joined the ranks of Disney Princess, followed by Mulan in 1998. Hold on. Mulan? Technically to be Royal you have to be either born into royalty or marry into it. Mulan wasn't born into a royal family nor did she marry a Prince. So, how does she join the Disney Royal roster? To many Disney scholars that is a conundrum. If she is indeed to be considered royal, then she is the first Asian Disney Princess.
Next, 2002 brought Lilo into the fold. Lilo? More on this later!! Keep reading.
In 2009 The Princess and the Frog made a Princess out of commoner Tiana who married a Prince. Tiana became the first Black Disney Princess.
Disney Studios is on a roll now. They are churning out Disney Princess films to meet the high demand of the worldwide audiences. And the products line of the company isn't doing badly either.
A year after Tiana, audiences were introduced to Rapunzel, the princess who was princess-napped but ultimately made her way back to the castle. She is a strong-willed young woman with guts.
Talking about guts, next we have Merida. In 2012 Princess Merida showed audiences how really tough but also kind a Princess can be. She wasn't about to take any guff from anyone. 2012 also gave us Sofia, a young girl whose mother marries the King, making Sofia a little Princess. Sofia is the first made-for-TV Disney Princess.
With the 2013 film Frozen, Anna became the newest addition to the Disney Princess roster. Her sister Elsa was a Disney Princess for the first part of the film before becoming a full-fledged Queen. Anna doesn't need a Prince to kiss her or rescue her. She's continuing the new tradition of Disney Princesses who are not mousey (no disrespect intended to the Disney Studio) or helpless. The new Disney Princesses are tough, strong, able, and still very loveable.
Now, let's go back to Mulan and Lilo. Technically Mulan is not a Princess however the powers that be have decided to include her in the princess roster. But what about Lilo? The other day a friend told me she thought Lilo was a Hawaiian Princess. I informed her that she isn't, however, drumroll please, I do have a story in which Lilo's roots trace back to royalty. Before you get any ideas, this story is registered so don't think you can steal my brilliant idea.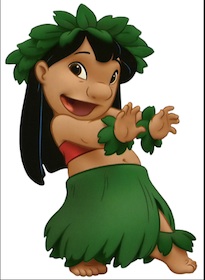 I gave a treatment (movie term for basic outline with story summary and description) to a friend of mine, Chris Sanders, who happens to be the guy who had the original idea for Lilo and went on to write the movie. Lilo deserves to be a Disney Princess. Chris gave me his stamp of approval, but was really not optimistic that Disney would entertain any ideas about the story, although he did think it is a good one. Disney guards their Princesses carefully, but when you think that Mulan isn't really a Princess, then it makes sense to follow a backstory to elevate Lilo into the realm of Princesshood, or Princessdom. Disney can get in touch with me if this idea interests them, and it should!
Okay, so there you have it – the basic roster of Disney Princesses. The films: Snow White, Cinderella, Sleeping Beauty, The Little Mermaid, Beauty and the Beast, Aladdin, Pocahontas, Mulan (?), Lilo and Stitch (hopefully), The Princess and the Frog, Brave, and Frozen. These films have entertained, delighted, inspired, and become part of our lives. But the clever folks at Disney didn't stop there, adding books, CDs, clothing, toys, makeup, and whatever other wonderful merchandising items they can create. The public devours anything related to Disney Princesses, and now, with the new outlook on life of the young women we favorably refer to as Disney Princesses, a new generation of movie-goers has some great female role models who can stand up for themselves, all the while keeping their senses of humor, their sweetness, and their lovability.
Disney has a gold mine with their beloved Princesses. To celebrate Merida joining the ranks, they held a lavish coronation ceremony at Walt Disney World. The Disney Princesses are fun, individual, and beloved by both young and old. To learn more about the princesses and to play princess games, visit their website at http://princess.disney.com.
Let's face it. Disney has a film franchise goldmine and marketing bonanza with their princesses. There would only be one thing I would add. You guessed it. Lilo. Come on, Disney. Call me. Let's talk.
About the Author
Francine Brokaw has been covering all aspects of the entertainment business for 20 years. She also writes about technology and has been a travel writer for the past 12 years. She has been published in national and international newspapers and magazines as well as Internet websites. She has written her own book, Beyond the Red Carpet: The World of Entertainment Journalists, from Sourced Media Books.
Follow her on Twitter
Like her on Facebook