Today is Forever/Hoy es para siempre CD Giveaway
Category:
Giveaways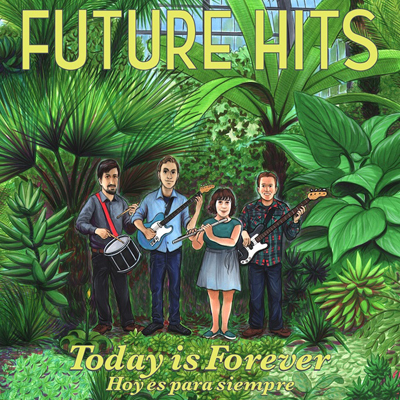 Future Hits, led by Chicago public school teacher and musician Matt Baron, will release a bilingual (English/Spanish) album, Today is Forever/Hoy es para siempre, on Cinco de Mayo.  Soon after he began teaching in the Chicago public schools, Matt Baron found himself writing standards-aligned songs with corresponding activities and differentiated assessments for the classroom.  Thus far, he's written more than 50 songs and formed the dynamic Future Hits band in order to share his fun and heartfelt (yet secretly educational) music with everyone.  Today is Forever/Hoy es para siempre is designed to appeal to a wide audience of both English and Spanish speaking kids and families. Every song on the album is performed in both English and Spanish.
Says Matt Baron, "Today is Forever/Hoy es para siempre is a special album because, as far as I know, it's the only bilingual, learning standards-aligned album available that also stands alone as an excellent rock album that adults will enjoy as much, if not more, than their kids."
We have some copies of this CD to giveaway. To be eligible to win a copy of Today is Forever, email us at [email protected] with "Today is Forever Giveaway" in the title. Please supply your name, address, phone number and email address (so we can let you know if you are a winner).
The deadline for this giveaway is May 5, 2015.