Toontown reopens at Disneyland March 19, 2023
Category:
Travel

Toontown has officially reopened at Disneyland after a year of being closed for a complete remodel. This is a colorful, fun, and great place for people of all ages. The decorations and backdrop are amazing and the interactive experiences make this a unique area of the resort.
There are three "attractions" in Toontown.
Mickey & Minnie's Runaway Railway opened a few weeks ago and is a favorite among visitors. Guests ride in a trackless train and experience a 360-degree cartoon in which they are immersed. The song in this attraction is as addicting as the "small world" tune. I love it.
Chip 'n' Dale's GADGETcoaster is a small coaster that was created with little kids in mind, however adults also get a thrill. It's not a super fast track and the drops are minimal so most people will be able to enjoy this attraction.
Roger Rabbit's Car Toon Spin has guests riding in their own taxi as they encounter experiences surrounding their cab. The center wheel allows for guests to spin their car around as they desire.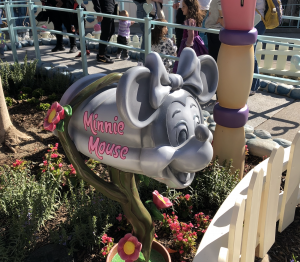 Also in Toontown are areas for kids to play and explore, slide, and splash. Characters can be found throughout the town and Mickey and Minnie have scheduled times to greet guests in their respective homes. And speaking of homes, guests get to walk through them and see how these two iconic mice live.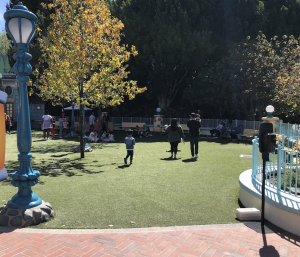 Café Daisy and Good Boy! Grocers have a variety of food so it's not necessary to leave Toontown to get something to eat. Guests are encouraged to set up their own picnics in centoonial park with baskets and blankets available to purchase to make a memorable picnic.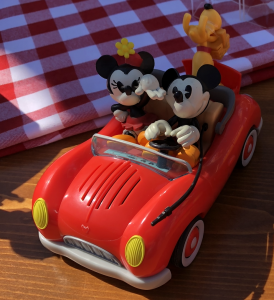 And speaking of purchases, EngineEar Souvenirs has some fun items commemorating the town. The remote controlled car is adorable. It looks like the car Mickey and Minnie ride in in the Runaway Railway attraction.
For the first time in it's history, Pete is available to greet guests. This character has taken a back seat but is now front and center in Toontown.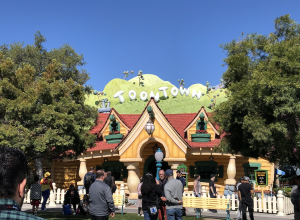 Toontown is located next to it's a small world, and also has a station on the Disneyland Railroad line that encircles all of Disneyland.
Jeff Shaver-Moskowitz, Portfolio Executive Producer at Walt Disney Imagineering, said, "Mickey's Toontown first opened 30 years ago, so there are generations of Disneyland Resort guests who have grown up with and made magical memories here. Walt Disney Imagineering set out to keep the essence of what makes Mickey's Toontown special for so many, while evolving it for the coming generations of families who can't wait to make new memories here."
The beautiful and enjoyable reimagined Toontown is just one of the new ways in which the company is celebrating its 100th anniversary.
Click on the link below to view a look at Toontown.
About the Author
Francine Brokaw has been covering all aspects of the entertainment industry for over 25 years. She also writes about products and travel. She has been published in national and international newspapers and magazines as well as Internet websites. She has written her own book, Beyond the Red Carpet The World of Entertainment Journalists, is the entertainment correspondent for Good Day Orange County, and has her own TV show, Beyond the Red Carpet, on Village Television in Orange County. She is a longstanding member of the Television Critics Association and is accredited by the MPAA. Follow her on Twitter.