Creative Lettering and Beyond Art & Stationery Kit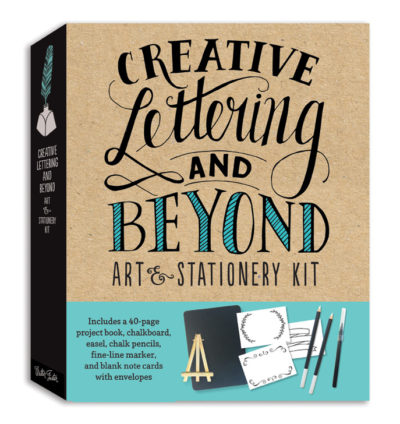 Includes a 40-page project book, chalkboard, easel, chalk pencils, fine-line marker, and blank note cards with envelopes
Why doodle letters when you can create hand lettered pieces of art?
Graduate your hand lettering from bored designs to art worthy of hanging on the wall. We've pulled together the artistic talents of four professional hand letterers and calligraphers to give you instruction, and are including all the tools you'll need to get creating.
The Creative Lettering and Beyond Art & Stationery Kit comes beautifully packaged in a hardcover case filled with everything new letterers will need. Get a handle on drawing elegant lettering with the 40-page project book for lessons and inspiration, a slate board and easel for practice, notecards for finished projects and all the art supplies you'll need.
You've no doubt seen how fast lettering has built steam on Instagram, Pinterest and other sites. Even if you're completely new to lettering–or even to making art entirely!–these tips, techniques, and materials, will have you completing project after project. With the Creative Lettering and Beyond Art & Stationery Kit you'll be experimenting with cursive script, getting your feet wet with calligraphy, and embellishing and illuminating hand-lettered artwork on day one.
This all-in-one art guide is perfect for the artist in your life. The highly giftable kit brings everything an artist needs for a weekend of artistic fun, or a new skill for a lifetime.
Where to Purchase:
US: Amazon.com – Barnes & Noble – IndieBound – Indigo
UK: Amazon.co.uk – Waterstones – Book Depository – Books Etc.
AU: Booktopia