Emile Henry Bread Cloche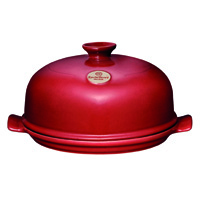 The ceramic Bread Cloche with its bell shaped cover traps steam from the baking bread to create an environment similar to a steam-injected oven. The steam gives the bread a crunchy, chewy crust.
The Emile Henry Bread Cloche is sized for a round loaf made with 3-cups of flour.

Like all Emile Henry products, the Bread Cloche is made of all natural materials and is backed by a ten-year warranty, which is not offered by any other ceramic manufacturers. Emile Henry is located in the Burgundy town of Marcigny, France. To find out more about Emile Henry, call 302-326-4800 or visit Emile Henry USA at www.emilehenryusa.com.