Emotional ABC's, Help Your Child Succeed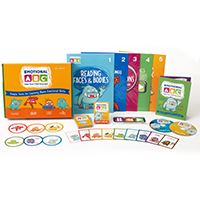 Help Your Child Succeed with the "Emotional ABC's" breakthrough program. Emotional ABC's helps children (ages 4 to 10) acquire life-long emotional intelligence.
The Emotional ABC's is an interactive, step-by-step program that shows your child how to work through emotions and make good choices.
Components of the program include: a 40 minute Program DVD, five 24-page Activity Books, Music CD, Playing Cards, Stickers and Magnet. The DVD presents the core concepts of The Emotional ABC's. These concepts are substantially reinforced by the Activity Books and other Program components.
PART 1 teaches the basic building blocks of Emotional literacy, which include: identifying feelings, understanding sensations, reading facial and body cues, and breathing properly.
PART 2 presents the simple, easy-to-remember techniques of: (A) "Pause & Breathe," (B) "Rewind," and (C) "Play" of the Emotional ABC's Toolbar. These skills can help your child successfully answer the daily, recurring questions of:
What am I feeling?
Why am I feeling this emotion?
What's the best choice for me in this particular situation?