Gold Bird Metallic Pencils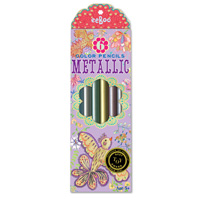 An eeBoo classic, these Pencils have hung among the ranks of top sellers consistently, since it's inceptions. These exceptional Pencils can add shimmer to your art or add flare to your notes. Each set comes with 6 large Metallic Pencils for easy grip. Pencil colors are: Red, green, blue, copper, silver and gold. The box itself is adorned with beautiful art work and printed with metallic inks. Each pack contains a special sharpener.
Winner of the Oppenheim Best Toy Award!