How to Build Brick Cars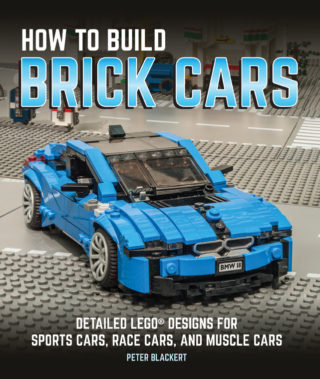 Detailed LEGO Designs for Sports Cars, Race Cars, and Muscle CarsBuild–Learn–Customize–Play!
The World's Best Cars In The Palm Of Your Hand.
Ladies and gentlemen, boys and girls, start your engines and bust out your bricks! How to Build Brick Cars is here for the inner creative person in us all. Featuring over a dozen fully realized builds of classic and contemporary sports cars, race cars, and muscle cars, How to Build Brick Cars features a range of levels to challenge both brick newbies and the veteran block-slingers far and wide.
Inside, readers will find detailed, full-color illustrations and step-by-step instructions for such classic and contemporary vehicles like the 1932 Ford V-8 Roadster, Datsun 240Z, 2016 Le Mans Ford racer, Ferrari 250 GT California, Jaguar E-Type coupe and convertible, Ford F150 Raptor, Bugatti Veyron, and the iconic Porsche 911. The vehicles represent a range of manufacturers such as GM, Chrysler, Bugatti, and more, from many of the world's most exciting automotive manufacturing countries (the United States, England, Germany, France, Italy, and Japan).
Featuring informative and historical text about each car and designed exclusively by Ford Motor Company vehicle designer Peter Blackert, How to Build Brick Cars will keep you busy from the flip of the first page to the end of the race track!
Where to Purchase:
US: Amazon.com – Barnes & Noble – IndieBound – Indigo
UK: Amazon.co.uk – Waterstones – Book Depository – Books Etc.
AU: Booktopia