IFROGZ Bluetooth Wireless Earbuds from ZAGG
Are you tired of being tethered to your devices? When you're out for a run, would you rather be free from a wire that connects you to your phone, iPod, or other device? And do you want clearer sound from your ear buds? If you do, IFROGS from Zagg has the best Bluetooth earpieces on the market.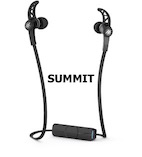 Zagg is a company dedicated to making technology work for you. With their four new Bluetooth headsets, sound is clear and no wires connect you to your device. You are free to turn your head or jump around. You won't run the chance of disconnecting from your iPod or phone and you'll still get top quality sound with these small headsets.
There are four new Bluetooth earbud sets for different occasions. If you are a runner or sports enthusiast and require a rugged unit, there is the SUMMIT Wireless earbuds. These earbuds have a little extra piece to keep the bud secure on your ear, which is what you need when you're running or exercising.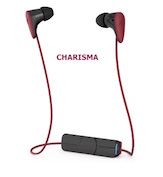 The lightweight wireless PLUGZ is Zagg's simplest version. They still deliver top quality sound in a simple design. Women might prefer the CHARISMA version. These earbuds are a little more stylish and come in a variety of colors. They're attractive, stylish, have specially designed fit for women, and are reliable. And for the best audio performance from your Bluetooth earbuds, try the IMPULSS style. This set has special chambers for "Reflective Acoustics" for audio enthusiasts. If you want the best audio from your device, this is the product for you.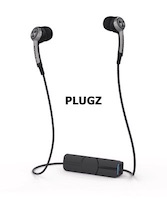 Synching any of these IFROGS earbuds to your phone, iPad, or iPod is easy, even if you have never done it before. There are simple instructions however all it takes is a click and in a few seconds your mobile device will be synched to the earbuds and you will then be able to enjoy your music completely untethered from your iPod, or whatever you connect to the wireless buds.
The company says these new Bluetooth earbuds are "Wireless Evolved." That just about sums it up except I would add, "Wireless Elevated."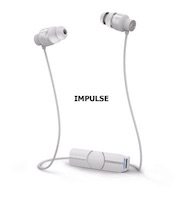 With their limited lifetime warranty, if your earbud tips get worn or damaged, the company will replace them. There are additional tips included and some come with three different sizes of tips for your personal comfort. They are all sweat resistant, and controlling the sound is no problem with the controls on a lightweight hub that clips securely to your shirt or strap. The magnetic hub stores the earbuds
The IMPULSE lists for $39.99. It's available in white/rose and black/silver. The SUMMIT lists for $39.99 and is available in black or red and comes with three sizes of ear tips. Charisma lists for $29.99 and comes in black/white, white/rose, and gray with three sizes of tips. The PLUGZ set comes in silver or blue and lists for $29.99. It comes with three sizes of ear tips.
Having tried several kinds of headphones and earbuds, I can honestly say these are extremely comfortable. And the best part, or I should say the best parts about them is they all deliver high quality sound and are wireless. They free you from your device. Bluetooth is the way to go. And these IFROGZ are the best.
About the Reviewer
Francine Brokaw writes about products, travel, and entertainment. She has been published in national and international newspapers and magazines as well as Internet websites. She has written her own book, Beyond the Red Carpet The World of Entertainment Journalists, from Sourced Media Books.
Follow her on Twitter